178 miles, about 9 hours
Take the long way and tour the state on this snout-shaped route for the ultimate and surprisingly diverse Connecticut experience. There are pastoral rolling hills, big cities, sandy beaches, even a couple of mountain peaks. In the Fall, this route offers some of the best orange and red foilage displays in New England. And because of the Constitution State's small size, you can see it all in one day, with some baccarat and domesticated llamas thrown in for good measure.
Here are a few of the highlights along today's route:
Norfolk, Connecticut
(Starting point)
Start in the northwestern town of Norfolk and hike through the forests at
Haystack Mountain State Park.
The circular 34-foot stone tower at the top of the mountain provides 360-degree panoramic views of the countryside, as far as Massachusetts' Berkshire Mountains to the north and the Long Island Sound to the south. In September and October, Haystack Mountain is also considered a prime location to see Connecticut's famous fall foliage.
Hartford, Connecticut
(mile 31)
Connecticut's capital is home to both America's oldest public park, Bushnell Park, and oldest art museum, the castle-like Wadsworth Antheneum. Hartford was also home to
Mark Twain
, whose house in the Asylum Hill neighborhood is one of the city's most popular attractions. Walk through Hartford's lively downtown and stop by Travelers Insurance Company. The free observation deck on the 27th floor provides some of the best views.
Hampton, Connecticut
(mile 75)
Distant relatives of the camel with cashmere-like fur once coveted by Incan royalty, alpacas are bred all over New England, as they are well-suited to the region's mild summers and cold winters. Learn more alpacas as they graze the rolling hills of bucolic Safe Haven Farm. You can buy your own but if you just want to visit, that's cool, too. Safe Haven has open hours Thursday-Saturday from 9-4, and by appointment.
(Update June 2022): As far as we can tell, this farm is no longer in business, but we have preserved this text, as evidence of what used to be found here.
Other alpaca farms in Connecticut are listed
here
.
Mashantucket, Connecticut
(mile 112)
There's a lot going on at
Foxwoods Casino Resort
, a former bingo hall that currently has more slot machines than any other casino in the world. Foxwoods has golf, a spa, more than 30 restaurants, all kinds of shopping, a Titanic artifacts exhibit, celebrity impersonators from Frank Sinatra to Christina Aguilera, and just about every variation of gambling. You know, in case you want to get your personal alpaca fund started ASAP.
Mystic, Connecticut
(mile 120)
Open from late March through November, the famous maritime museum in the tiny, quintessentially New England port village of Mystic has a lot of activity in addition to traditional exhibits. At
Mystic Seaport
, you can walk around the recreated 19th century village while the role playing guides give you a history lesson or you can climb aboard the historic vessels, or even rent a boat for your own tour of the Mystic River.

Madison, Connecticut
(mile 159)
A local favorite,
Hammonasset Beach State Park
is Connecticut's largest shoreline park with more than two miles of beach to swim, stroll and sunbathe. Other Hammonasset amenities include rustic walking trails and a nature center, as well as 550 campsites. Fun facts: 'Hammonasset' translates to 'we dig holes in the ground,' referring to Native Americans' riverfront farming, and the park served as an army reservation during World War II.
New Haven, Connecticut
(mile 178)
End your day in charming, tree-lined
New Haven,
home to many museums, galleries, historic buildings and Yale University. Sitting near the top of every ranked list that pertains to higher education, Yale is an ultra-competitive university that accepts less than 10 percent of its applicants. But there's nothing stopping you from picking up a sweatshirt or a pair of shorts at Campus Customs and impressing people the next time you use public transportation.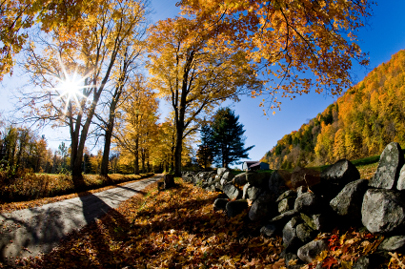 A Connecticut country lane in the Fall
is a perfect place to find majestic fall foilage