210 miles - About 6 hours
A journey along the magnificent Mississippi River, following the Great River Road. The world's largest Catsup bottle, the home of Popeye, the confluence of the Mississippi and Ohio Rivers and the Turkey Bayou will be pass beneath your road trip ride's wheels today. Several hikes are possible including one in the Trail of Tears State Forest before a quick dip into Kentucky and back across the Ohio River to Superman's hometown.
Here are some of the highlights to look out for along the way:
Collinsville, Illinois
(Starting point)
Collinsville is the home of the
Brooks World's Largest Catsup Bottle
. The 170 ft. water tower was built in 1949 and the water tower sign says 'Road Side Architecture - At Its Best!' This roadside marvel is located just south of downtown Collinsville on Route 159.
Chester, Illinois
(mile 60)
This river town is the hometown of Popeye creator E.C. Segar. If you are fan of Popeye, then be prepared to spend some time wandering Chester because it is full Popeye goodies such as murals, sculptures, pictures, etc. And if your travel plans put you in Chester in the fall,
check out the Popeye Festival!
Oakwood Bottoms Recreation Area, Illinois
(mile 93)
A nicely graveled road provides access to scenic spots such as Turkey Bayou and the Big Muddy River (and it is a muddy river). A visit into the Oakwood Bottoms Recreation Area is a scenic nine mile drive.
Trail of Tears State Forest, Illinois
(mile 123)
This park gives the road tripper
a chance to get their feet on the ground and hike among the tall trees of the Shawnee National Forest. The park's name has to do with the difficult trek (bitter cold and starvation) that Native Americans were forced to make during the early 1800s.
Cairo, Illinois
(mile 166)
Cairo (pronounced "care-o")
is home to
Fort Defiance
, which at the confluence of the Mississippi River and Ohio River. Cairo is the southern most point in Illinois. Many of the old buildings in Cairo look as if they are beyond repair (some of them look like they had been bombed). Large sections of the downtown Cairo have been abandoned. The Gem Theater, which opened in 1910 but has been closed for many years, is still standing and there is no doubt it was a gem of a theater in its day. It's worth taking time to visit the
Rivermore
and
Magnolia Manor
mansions when in Cairo.
Metropolis, Illinois
(mile 210)
Metropolis is located along the Ohio River approximately 13 miles northwest of Paducah, Kentucky. The welcome sign to Metropolis proudly claims Metropolis as the
'Hometown of Superman'
. Downtown Metropolis is called Superman Square and there is a huge Superman statue located in front of the Massac County Courthouse. When in Metropolis, take a break from Superman and have some fun at
Fort Massac State Park.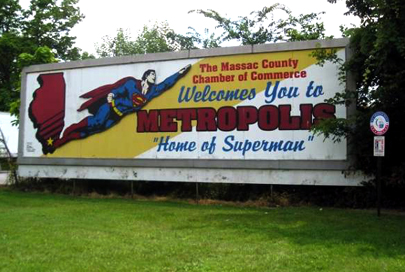 Welcome to Superman's home town!