300 miles - About 10 hours
The western most section of the Texas Mountain Trail presents pictographs on the rocky Hueco Tanks, and then cruises through an expanse of salt flats, to the Guadalupe Mountains National Park. Turning north into New Mexico (the 'Land of Enchantment') for a quick visit to Carlsbad Caverns National Park, Sitting Bull Falls, and the town of Artesia. The route ends with a possible UFO encounter in Roswell.
Here are some of the highlights to look out for along the way:
El Paso, Texas
(Starting point)
This route begins at the junction of I-10 with US Highways 54/62/180 in the border town of
El Paso, Texas
. El Paso is great city to sample awesome Mexican food and shop for spices that are rarely found in other places in the United States. Here are
some of the annual events in El Paso
.
Hueco Tanks State Park, Texas
(mile 32)
Pictographs (rock paintings) galore can be found at the
Hueco Tanks State Park
and Historic Site. Access to the park is via Ranch Road 2775.
Salt Flat, Texas
(mile 75)
This was a center of salt production for hundreds of years and salt was hauled north to supply the needs of the settlers of the Rio Grande Valley. Commercial salt production ended in the late 1930's and the town of Salt Flat is mostly a ghost town today.
Guadalupe Mountains National Park, Texas
(mile 110)
The scenic views at the this
remotely located National Park
are an unexpected treat when traveling through the west Texas. At 8,751 feet, Guadalupe Peak is the highest spot in Texas.
Carlsbad Caverns National Park, New Mexico
(mile 152)
The Carlsbad Caverns
are located in the Chihuahuan Desert of the Guadalupe Mountains. You can take an elevator down and immediately start exploring the caverns, but I recommend via the Natural Entrance and the Bat Cave.
Sitting Bull Falls, New Mexico
(mile 202)
Although it takes some time, it's a scenic drive to/from
Sitting Bull Falls
. It is a short and easy hike to the falls after arriving at the parking lot/picnic area. Note: There is no camping at this spot.
Artesia, New Mexico
(mile 257)
Be sure to take a few minutes to wander downtown Artesia to see the spectacular sculptures like the 'The Trail Boss' and 'The Derrick Floor' and outstanding murals. Be prepared to smell oil when visiting Artesia.
Roswell, New Mexico
(mile 300)
This route ends in downtown Roswell at the junction of US Highways 70/380/285. There's a nice sense of humor about the town with several references to UFOs. For a slightly more
historical account of Roswell, click here
.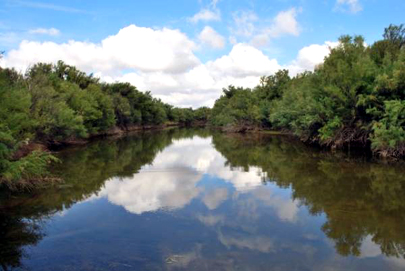 Crossing the scenic Pecos River in New Mexico.