310 miles - About 6-8 hours
You don't always have to get off the beaten path to find the offbeat. U.S. Highway 101 in California from San Jose to Santa Barbara is a major thoroughfare that offers a lengthy but invigorating drive encompassing coastal scenery, history, wineries, the arts, recreational activities, architectural oddities, and even lots of garlic.
Here are some of the highlights to look for.
San Jose
(Starting point)
The third-largest city in California boasts many excellent attractions, one of the most fascinating is the
Rosicrucian Museum
, which houses one of the largest collections of Egyptian artifacts in the world, including several human and animal mummies. (The entire complex, spanning a city block, is modeled after ancient Egyptian architecture and sculpture.) Another curious attraction is the
Winchester Mystery House
. This quirky 160-room mansion was constructed over a period of 38 years by Sarah Winchester, heiress to the Winchester Rifle fortune, who allegedly was warned by spirits that she would die if construction ever stopped. With such features as staircases that lead nowhere, you may feel that the spirits are watching you as well.
Find Hotels and Motels Near San Jose
Gilroy
(Mile 28)
Long before you actually pull into
Gilroy
, your nose tells you it's coming up. The self-proclaimed 'Garlic Capital of the World' is so fond of the aromatic bulbs that it hosts a Garlic Festival every July. And any time of the year you can purchase such memorable treats as garlic chocolate and garlic ice cream.
Salinas
(Mile 52)
Nestled among rich farmlands eight miles from the Pacific Ocean, Salinas is best known as the hometown of Pulitzer Prize-winning novelist John Steinbeck, who is honored at the
National Steinbeck Center
at One Main St. and his birthplace and boyhood home, the
Steinbeck House
.
San Luis Obispo
(Mile 174)
Tour
Mission San Luis Obispo de Tolosa,
founded in 1772 by Father Junipero Serra, displaying an impressive collection of relics. Another worthwhile historical landmark is the Ah Louis Store, built in 1874 to serve the needs of the Chinese immigrants steadily pouring into the area. And who can resist Bubblegum Alley, in the 700 block of Higuera St., where the walls are covered in all kinds of pre-owned bubblegum,
some of which is arranged in rather artistic patterns.
Solvang
(Mile 275)
A must-see, this quaint little Danish village offers the traditional architecture, cuisine and souvenirs that make you feel as if you're visiting Denmark.
Santa Barbara
(Mile 310)
What better place to end your long coastal trek than this colorful coastal city that has so many recreational activities to offer? Surfing or swimming at the beautiful beaches, kayaking, hiking, horseback riding – there's sure to be something you'll find exhilarating. One particularly intriguing option for outdoor adventure is
Santa Barbara Safaris
, which takes you on off-road tours into the mountains, an itinerary that includes a viewing of ancient Chumash Indian cave paintings. Indiana Jones would be jealous!
Find Hotels and Motels Near Santa Barbara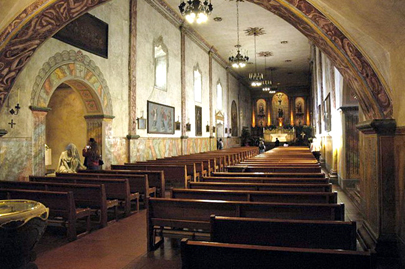 The Santa Barbara Mission is only one of
a score of historic missions open for touring along the coast
Photo by Don Casey