208 miles, about 10-12 hours
With clean cobblestone streets and eclectic architecture framed by rivers, Montreal is urban beauty at its finest. Montreal is less than 50 miles from the New York state line, so if you take a road trip up to the Paris of North America, you can meander through the Adirondack Mountains, jump-off a cliff at Split Rock, watch ski-jumpers in the middle of summer (or in the winter), or float down a river.
Here are a few places to actively enjoy the Adirondacks before you get stuck at Blackpool Border Crossing.
Lake George, New York
(Starting Point)
About an hour from the state capital in the foothills of the mountains, Lake George is known as the Gateway to the Adirondacks, making it the perfect place to grab a bite and start your day. The top of
Prospect Mountain
offers panoramic views of the tranquil, idyllic lake. The 1.7-mile hike begins with a trail on the western edge of the village, but you can also drive to the top.
Split Rock Falls – New Russia, New York
(mile 55)
Upstate New York is not known for its balmy winters, so unless you're a penguin or totally out of your mind,
Split Rock Falls
is a summer-only detour. A well-known swimming hole and cliff-jumping spot, the falls themselves are very powerful so be careful during high waters.
Lake Placid, New York
(mile 85)
Wasn't that so cool how Switzerland's Simon Ammann flew 138 feet during the Vancouver Olympics in February? You can watch his fellow athletes practice during Wet 'n Wild Wednesdays and Soaring' Saturdays at the
Olympic Jumping Center
in Lake Placid, two-time host of the Winter Olympics. The course is made with marble and plastic, slick with water to simulate snow during the summer months.
Ausable Chasm – Keeseville, New York
(mile 138)
Sculpted by geology hundreds of years ago,
Ausable Chasm
is a two-mile sandstone gorge through which the Ausable River runs before emptying into nearby Lake Champlain. Each year, 50,000 visitors walk the scenic nature trails, float through the massive canyon on inner tubes, and hike through caves.
Plattsburgh, New York
(mile 150)
A small lakefront college town, Plattsburgh is best-known as the site of two things: a battle during the War of 1812 and the coining of the term 'Michigan,' as in hot dogs drenched in a meaty chili sauce. By the time you make it up there, you'll probably be pretty hungry.
Gus' Red Hots
is a particularly well-regarded, as well as super cheap and 1,500 feet from the lake.
Montreal, Quebec, Canada
(mile 208)
Montreal
is a world-class city with a lot to see: the European feel of Old Montreal; the below-ground shopping complex in the Underground City; replications of various ecosystems in Biodôme de Montréal; Basilique Notre-Dame, the most notable of the city's many churches. If you're still feeling adventurous, a trip up Mount Royal, a 764-foot mountain just north of downtown, will allow you to see it all.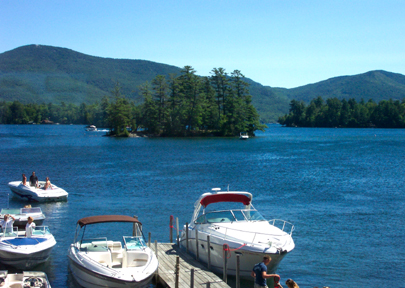 Lake George, New York, is known as the
gateway to the Adirondacks.