250 miles, 8 hours
A famous cave, a couple of old-time breweries and a visit to the world's only SPAM museum are hallmarks of this trip along the historic US Highway 61. US-Hwy-61 used to be the main highway linking New Orleans with Grand Passage, Minnesota. This section follows the Great River Road along the Mississippi River through the Mississippi Bluffs region of southeast Minnesota.
Minneapolis-St. Paul, Minnesota
(Starting point)
This route begins at the airport and heads directly to the Mississippi River.
Red Wing
(mile 51)
Red Wing
, in 2008, was listed as a 'distinctive destination' by The National Trust for Historic Preservation (only twelve communities are added annually). Red Wing is connected to Wisconsin via US Highway-63 by the Red Wing Bridge (officially named the Eisenhower Bridge).
Lake City
(mile 82)
Lake City
is located along Lake Pepin (the largest Lake on the entire Mississippi River). Lake City was a deep water port for grain in the mid 1800s. Now it's a center for recreational fishing.
Winona
(mile 115)
Winona
is home to Sugar Loaf, which is a 'rocky pinnacle' located at the junction of Highways 61 and 43. It was founded in 1851 and built on a large island in the Mississippi River. It became the place to be for lumber barons and their key personnel to live. By 1900 Winona had more millionaires per capita than any other place in the United States. As a result there are some incredible and architecturally significant historic buildings,
Sugar Loaf
(mile 115)
Sugar Loaf is a rocky pinnacle overlooking eastern Winona above the junction of Highways 61 and 43. The former Sugar Loaf Brewery (Peter Bub's Brewery) building is located on the northeastern slope. It is in the National Register of Historic Places.
Great River Bluffs State Park
(mile 132)
Great River Bluffs State Park
is located in the Blufflands Landscape Region. The park has trails and places to wander, and it's also a perfect place to see fall foliage.
Forestville Mystery Cave State Park
(mile 203)
Forestville Mystery Cave State Park
contains the village of Forestville, which is a living museum set in 1899 (one hour guided tour $6). Below ground the park contains Mystery Cave, which is the longest cave in the state open to the public.
SPAM Museum, Austin, Minnesota
(mile 247)
SPAM Museum
(free) is "dedicated to the delicious meat first created at the Hormel Foods Corporation plant in 1937." It is located at 1937 SPAM Blvd. in Austin, Minnesota. Note: SPAM is a registered trademark of Hormel Foods. The museum is well worth a visit!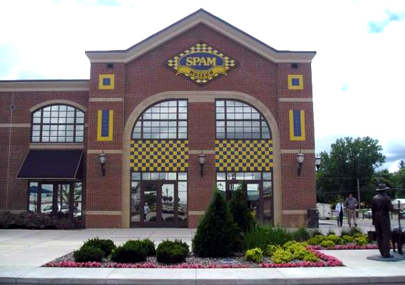 SPAM Museum in Austin, Minnesota