93 miles, 5 hours
'Get Your Kicks'…. On an iconic journey of discovery along 93 miles of the historic Route 66. Starting in Joliet, home to the Chicagoland Speedway, this route on the 'Mother Road' wends past an intermodal freight center, a park created to protect and celebrate the tall grass prairie, nationally registered historic buildings, town squares, outstanding roadside murals, fun eateries, and other roadside attractions like the Gemini Giant, the Meramec Caverns Barn and a Standard Oil Gas Station from 1932.
Joliet, Illinois
(starting point)
This route begins at the
Joliet Area Historic Museum
located on Route 66 in downtown Joliet, Illinois.
Route 66 Raceway
(mile 5)
Joliet is home to the Chicagoland Speedway and its sister track the Route 66 Raceway. Chicagoland Speedway hosts three major NASCAR events each year and is also home to open-wheel racing. One of the interesting things about the track is that back straight-away has a continuous curve.
CenterPoint Intermodal Center
(mile 10)
This intermodal freight center is a fun spot is you like seeing lots of trucks and trains. Now under expansion, when the construction work is completed it will be the nation's largest inland port.
Abraham Lincoln National Cemetery
(mile 10)
Abraham Lincoln National Cemetery
lies in the northwestern area of the former Joliet Army Ammunition Plant. The cemetery is named after the 16th President of the United States and founder of the National Cemeteries.
Midewin National Tallgrass Prairie
(mile 10)
Midewin National Tallgrass Prairie
was established in 1996 and is the first national tallgrass prairie in the country. It is located on the grounds of former Joliet Army Ammunition Plant and it has a couple short hiking trails.
Wilmington
(mile 17)
Wilmington is know as 'The Island City' because it has a city park located on an island in the Kankakee River. Keep an eye out for 'Gemini Giant' located at the Launching Pad Drive-in. David Clark has a great article and a cool selection of photos about the Gemini Giant in Summer, 2010 edition of the
American Road Magazine.
Check it out if you can!
Gardner
(mile 22)
The Gardner Jail (two-cells) was built in 1854. On road trips, I frequently look for old-time jailhouses. You can't go into the jail, but you can look inside and see what jails were like back in the 1800s.
Braidwood
(mile 29)
See if you can find the Braidwood Inn from the movie '
Planes, Trains and Automobiles
'. (Hint: It's not in Wichita, Kansas.)
Dwight
(mile 39)
Things to see in Dwight: Frank Lloyd Wright's Frank L. Smith Bank; an 1891 railway station; Ambler's Texaco Gas Station; the 1857 Dwight Pioneer Gothic Church; and,
the John R. Oughton House.
Odell (
mile 48)
A 1932 Standard Oil Gas Station is a 66 Roadside Attraction found in Odell.
Pontiac
(mile 60)
The old Livingston County Courthouse is located in the Pontiac town square.
Chenoa
(mile 72)
The 'Welcome' sign to Chenoa says it is "the crossroads of opportunity." Chenoa is at the intersections of Interstate 55, Historic Route 66, and U.S. Highway 24. When driving through Chenoa, be on the lookout for an outstanding Route 66/Chenoa mural; a refreshed Selz Royal Blue Shoes ("the sole of honor") mural; and the Matthew T. Scott House, which is on the National Register of Historical Places.
Towanda
(mile 88)
Time for a walk? The
Old U.S. Route 66 roadbed i
s a walking trail in Towanda.
Bloomington
(mile 93)
This route ends at the Bloomington central business district, which has been on the National Register of Historic Places since 1985. This historic district is near Main, Center and Front Streets.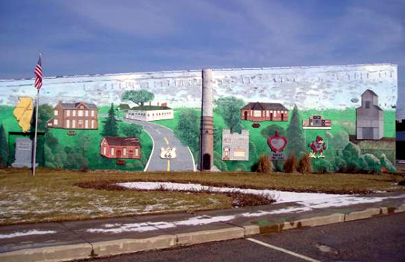 Route 66 mural in Chenoa, Illinois