155 miles - 3.5 hours
The resort town of Telluride might be the ultimate destination but this is a route that's as much about the journey as it follows the spectacular Unaweep-Tabeguache Scenic and Historic Byway. The first section winds its way through the remote but breathtaking Unaweep Canyon, with its 1,200-ft granite walls rising from green fields. From Gateway it's red rock country with the road running alongside – and often high above – the Dolores River. It's a dream ride of motorcyclists but memorable however you choose to travel.
Here are some of the highlights to look out for along the way:
Grand Junction
(starting point)
This route starts at
Grand Junction,
so called because it's where the Gunnison and Colorado Rivers meet. Today the city is known as much for its local wines as for the spectacular red rock canyons of this part of western Colorado, spend a day or two here and you can explore both.
Find Hotels and Motels Near Grand Junction
Whitewater
(mile 9)
Pick up the
Unaweep-Tabeguache Scenic and Historic Byway
at Whitewater, its northern terminus, and enjoy a 40-mile drive through the magnificent scenery of Unaweep Canyon. This is a primitive landscape, one created when the Uncompahgre Plateau rose up out of the earth around 8 million years ago, and you'll pass through a valley of high granite walls, cottonwoods, pines and waterfalls.
Divide Road Turnoff
(mile 21)
If you want to explore the
Uncompahgre National Forest
, take the turn-off onto Divide Road, a 100 mile route across the Uncompahgre Plateau. Be prepared for steep switchbacks!
Driggs Mansion
(mile 31)
This ruined building is one of the few man-made structures you'll come across along the canyon. Built between 1914-18 for the wonderfully-named Lawrence La Tourette Driggs, a rich New Yorker, this single story stone building fell into disrepair by the 1950s. However, it remains a landmark along the route and its setting is as spectacular as it ever was.
Gateway
(mile 47)
The small town of Gateway marks the end of the Unaweep Canyon and the start of the Tabeguache section of this drive. The road tracks the Dolores River, sweeping and curving beneath towering red sandstone cliffs; it's not difficult to understand why this road is so loved by two-wheeled road trippers.
Hanging Flume
(mile 73)
Hanging Flume
is a remarkable relic of 19th-century engineering. Constructed to carry water upstream for use in hydraulic gold mining, this wooden structure was built directly onto the sheer rock face. That this was done without modern construction equipment is impressive enough; that sections remain in place today, though the flume was abandoned in the 1890s, is amazing.
Norwood / Beef Trail Loop
(mile 114)
As you pass through Norwood, look south; the 12,000 ft mountain you see on the horizon is Lone Cone. Norwood is also the starting point for an optional, 33-mile scenic route known as
Beef Trail Loop
, a well-maintained road that makes it easy to get out into the backcountry.
Telluride
(mile 155)
Famous for its spectacular setting beneath towering mountains,
Telluride
is a resort destination with something for everyone, from hiking, biking and off-road driving to skiing, snowboarding and whitewater rafting. Looking for something a little more sedate? There are arts, music and wine festivals; spas, modern healing specialists and yoga/pilates centers; and a wide selection of top class restaurants.
Find Hotels and Motels Near Telluride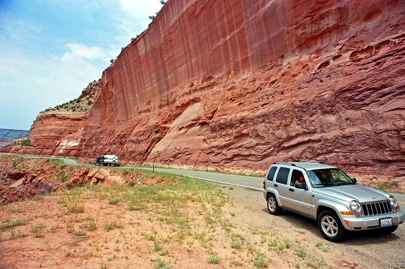 Towering red sandstone cliffs and wonderful views down over the Dolores River; just one of the treats along the Unaweep-Tabeguache Scenic and Historic Byway.