230 miles - allow a full day
This is a truly wonderful coastal drive, taking in rugged cliffs, picturesque lighthouses, endless sand dunes and arguably the most beautiful beach in the whole of Oregon. And at the end of the route thereís the majestic wonder of California's redwoods. There's even time to take in a classic roadside attraction in the form of a collection of life-size dinosaurs.
Heading south from Newport, here are some of the highlights along the way:
Newport
(starting point)
The route starts in
Newport,
a bustling fishing port with plenty to offer the visitor, including an estimated 80+ restaurants, diners and cafes. Its most popular destination is the
Oregon Coast Aquarium
; other attractions include a choice of beaches, two famous lighthouses, a thriving arts scene and virtually endless possibilities for the more active visitor including surfing, hiking, fishing, kayaking and biking.
Find Hotels and Motels Near Newport
Sea Lion Caves
(mile 36)
Sea Lion Caves
is home to a large breeding colony of Stellar sea lions. The visit involves a 208 feet elevator ride right down into the cave itself (while you're waiting, scan the sea below to see if you can spot a whale spouting). At one end of the cave are the sea lions, at the other is a superb view of the nearby
Heceta Head Lighthouse.

Oregon Dunes National Recreation Area
(mile 65)
The
Oregon Dunes
are a magnet for 'off-highway vehicle' users (didnít we used to call them dune buggies?) and, as a result, you can feel slightly out of place if you're not towing, unloading, riding or fixing an ATV. But even if you're just passing through, there are plenty of short trails - some which have been 'boardwalked' - that allow you to experience the amazing scale of the place: some dunes rise to over 500 ft above sea level.
Bandon
(mile 115)
Bandon-by-the-Sea
is a picture postcard-pretty town with a good choice of hotels and places to eat. If time permits, I'd recommend breaking your journey and staying overnight here. Whatever you do, be sure to visit the beach. It's wide, empty and incredibly photogenic. There are rock pools, anemones, starfish colonies, wonderfully clean and smooth sands and amazing sea stacks rising out of the water.
Prehistoric Gardens
(mile 150)
Oregonís
Prehistoric Gardens
are home to 20 or so life-size dinosaurs created in concrete, and then painted in vivid colors, by sculptor Earnie Nelson. Set in a genuine rainforest, this quirky roadside attraction has been charming visitors since the early 1950s.
Whaleshead Beach
(mile 183)
Situated just north of Brookings,
Whaleshead Beach
is great place to get out and stretch your legs. It gets its name from the sea stacks that sit just off the beach and are supposed to look like the head of a whale. In the right conditions, the sea apparently spurts like a whale spouting.
Jedediah Smith Redwood State Park
(mile 230)
Nothing quite prepares you for your first redwood. Almost inconceivably massive, these magnificent trees have a presence that forces you to recalibrate your idea of plant life. The 10,000 acre
Jedediah Smith Redwood State Park
offers trails, an excellent campground and the Smith River, where you can swim, float or just sit quietly and watch the deer as they come down to drink.
Find Hotels and Motels Near Jedediah Smith Redwood State Park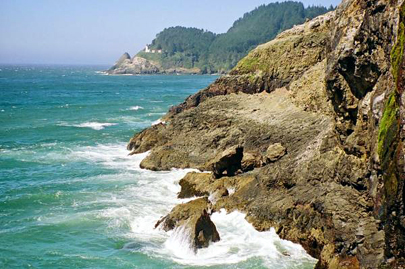 Heceta Head Lighhouse, as viewed from
inside the Sea Lion Caves.