145 Miles - Allow 4-5 hours with stops
If you are headed to Taos, New Mexico from the east, this route lives up to the state slogan - Land of Enchantment. You'll drive on portions of several historic roads and trails and through the Sangre de Cristo Mountains before dropping into the Taos Valley. Scenic vistas of the Sangre de Cristos, the Great Plains and the Tusas Mountains abound, and for an added treat, take a walking tour of the art galleries in Taos.
Here are a few highlights to look out for along the way:
Santa Rosa:
(Starting point)
Start your trip here with a full tank of fuel.
Dilia:
(Mile 33)
You'll be following the pre-1937 Route 66 alignment from here to Interstate 25. Look for the sign. Just off the road in Dilia is the scenic Sacred Heart Church. Dilia is halfway between Santa Rosa and Interstate 25.
Las Vegas:
(Mile 75)
Take a break in Las Vegas, which is nothing like the one in Nevada. Originally a land grant, it was a stop on the Santa Fe Trail and later a booming railroad town. Consider a visit to the historic 1882
Plaza Hotel
. At the plaza, you'll be following the Santa Fe Trail, which follows Highway 518 north out of Las Vegas and as far as Buena Vista (Highway 161). Check your fuel before leaving.
Taos:
(Mile 145)
You'll find plenty to do
in Taos
so plan to stay a few days! Explore sacred sites like the Taos Pueblo or walk a labyrinth. Tour an Earthship to view a radically sustainable homes constructed with recycled materials. Hike in the nearby Sangre de Cristo Mountains, take a hot air balloon ride over the Rio Grande Gorge, or relax at a hot springs. You'll find excellent food and loads of art galleries with works by local artists and craftsmen. [For more information, see
'Afoot in Taos: An Adventure Walking Tour' by Jaimie Hall Bruzenak.
]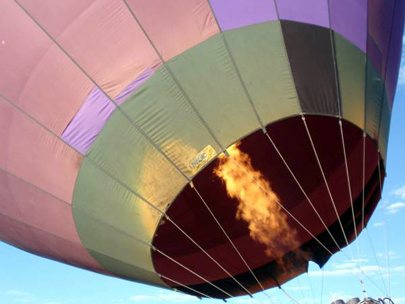 Firing up a hot air balloon to float along
the Rio Grande Gorge.