170 Miles - Allow 6-8 hours
This trip will be great fun for the entire family. Road trippers can visit the oldest state park in the nation, tour a major Georgia city, stop off in peach country, and take a train ride that is bound to excite the youngest travelers. Navigating the complicated highways around Atlanta can sometimes be a challenge, especially if you are not used to driving in heavy traffic -- but that's all part of the adventure!
Here are a few highlights along this route:
Atlanta, Georgia
(starting point)
Starting in Atlanta, head south and keep a lookout for the Interstate 75 signs. Most of this trip will be along the interstate, but the road tripper will still find plenty of Georgia's rural country to enjoy.
Flovilla, Georgia
(mile 53)
Considered the oldest state park in the nation,
Indian Springs State Park
in Flovilla is the first stop along this route. The park has both campsites and cabins. Activities available at the park include a lake, swimming pool, museum, boat rentals and boat ramp, miniature golf, picnic areas and the latest craze and a great hobby for road trippers –
geocaching.
Macon
(mile 96)
Macon
is known as the 'Song and Soul of the South.' The area in and around Macon was at one time home to the Creek Indians. Today it is a hustling and bustling city filled with interesting attractions, great shopping, a variety of restaurants, historic sites and is a place many great musicians call home. Take some time to lap up all the southern hospitality you are bound to discover in Macon. You may even learn to enjoy collard greens and grits.
Fort Valley
(mile 124)
Welcome to peach country. Enjoy a self-guided tour of
Lane Southern Orchards
' packing operation from a catwalk inside the gift shop, where almost anything made from a peach can be purchased, along with other fruits, vegetables, candy and gifts. Attached to the gift shop is a great little café. Get out the camera and enjoy a tour of the orchards.
Cordele
(mile 170)
All aboard! Cordele is the official beginning of southwest Georgia's excursion train –
Sam's Shortline
, a spinoff from the popular Thomas Train children's toy. The ride will be popular with the youngest road trippers, but even grandparents will get a kick out of this train route.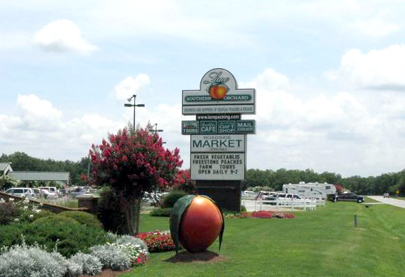 Enjoy Georgia peaches at Lane Southern Orchards
in Fort Valley
Photo by Anne Sponholtz