144 miles. Allow four hours with stops.
Travel east from Albuquerque to Santa Rosa, following portions of historic Route 66, capturing the flavor of the Mother Road and the high desert of New Mexico.
Here are a few highlights to look out for along the way:
Albuquerque:
(Starting point)
Begin your trip here. Leave Interstate 40 at exit 149 and travel Central Avenue, historic Route 66. You'll pass period and long-standing restaurants and motorcourts and Nob Hill. Look closely and you may see a few motorcourts with original car ports alongside the rooms. Drive Central Avenue at night to see old neon signs that grabbed the weary tourist's attention. Central will rejoin I-40 at the other end of town or you can continue to follow the historic route to Moriarty via Highway 333.
Moriarty:
(Mile 50)
If you're still traveling Interstate 40, take exit 194 to pick up a portion of Route 66. Moriarty is known as the Pinto Bean capital of the world. Moriarty has the last operating Whiting Bros. service station, a popular chain out west. Owner Sal Lucero pumped gas there for years before purchasing the station. A number of other old Route 66 businesses align the route.
Santa Rosa:
(Mile 135)
Take Exit 273 off Interstate 40 to follow Route 66 through town. Joseph's Bar and Grill, at 865 Historic Route 66, is a good choice for a meal. Be sure to visit the 86-foot deep Blue Hole artesian lake, a scuba-diving haven. The
Route 66 Auto Museum
is another recommended stop for Route 66 fans. It's located east on historic Route 66 between exits 275 and 277.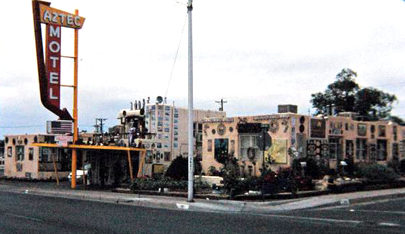 This was the first motel on east Central Avenue
on Route 66 in Albuquerque. Its eclectic decorations
make it still stand out today.