158 miles - 6 to 8 or more hours
Get ready to hop-scotch across three states, and on the way discover some great shopping, a trip to a state capital and an exciting journey back to our nation's earliest days. The trip ends where you might well become the big winner at one of the casinos that dot Atlantic City. Start your engines in New York City, and discover it is amazingly easy to navigate in and out of the Big Apple.
Here are a few highlights along this route:
New York City
(starting point)
From the theater, to shopping to fine dining to sporting events to sightseeing, New York has it all. Now get ready to adventure beyond its borders. Head toward the Holland Tunnel and let your turning tires take you along a route with an itinerary filled with diversity.
Elizabeth, New Jersey
(mile 17)
It will be hard to decide what to do first in
Elizabeth
Ė sight-see or shop. But whichever you decide to do first, you will discover both offer the best of the best. One of the attractions to shopping here is the community offers half the normal New Jersey sales tax at the many stores that have put down stakes in Elizabeth. When it comes to sightseeing, donít miss historic mid-town Elizabeth, among many of the sights to see.
Trenton, New Jersey
(mile 65)
New Jerseyís state capital is an interesting stop and visiting the
capitol building
is a must see. It is breathtaking, both from the inside and outside. Trenton is also a community where some great Mom and Pop restaurants call home. Take a bold step by trying lunch at, say, an Italian restaurant with an unfamiliar name or enjoy some fine dinning or a familiar fast food restaurant.
Philadelphia, Pennsylvania
(mile 95)
Itís time to spend a little time in Pennsylvania, and what better place to stop than
Philadelphia.
If itís baseball season, you might want to head to the ball park for a
Phillies game.
Otherwise, begin your journey with a tour through the town to become familiar with all the historic sights that have filled the pages of history books.
Atlantic City, New Jersey
(mile 152)
Back in New Jersey,
Atlantic City
awaits the traveler and ready to offer the fun of casino gaming, top entertainment, a fabulous nightlife and an unforgettable boardwalk. But that is not all this famous city has to offer. Donít forget it is on the shores of the Atlantic Ocean, so be sure to enjoy that aspect of the cityís entertainment too.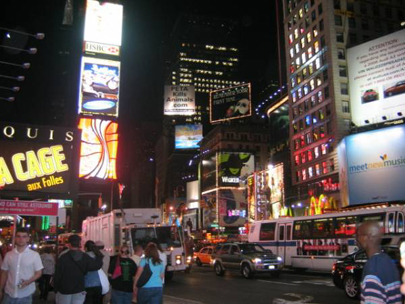 Enjoy the Times Square nightlife before
heading off on this trip.

Photo by Anne Sponholtz