185 Miles - about 6-7 hours
A road trip on the Lookout Mountain Parkway features beautiful waterfalls, the longest mountaintop river in the United States, an Alabama ski resort, and the nation's highest underground waterfall.
Here are a few highlights along the way.
Birmingham, Alabama
(Starting Point)
The route begins in Birmingham. But before leaving town, check out
Vulcan
, the largest cast-iron statue in the world and the
Birmingham Civil Rights Institute
, a state-of-the-art, multimedia museum and exhibit of racial progress and History in the United States.
Gadsden, Alabama
(Mile 60)
Here you will find
Noccalula Falls
, a 100-foot waterfall named for a Cherokee princess who, according to legend, plunged to her death here rather than forsake her true love. The
Lookout Mountain Parkway
starts here, and it's also the beginning section of the "Longest Yard Sale in the World" held each year in August.
Little River Canyon National Preserve
(Mile 90)
At the little community of Dogtown, break away from the Parkway and turn east on Highway 176 to
Little River Canyon National Preserve
. The rim drive will give you an up-close look at the nation's longest mountain-top river with several overlooks for photos. You can return to the Parkway via Highway 35 to intersect with Highway 89 near Fort Payne.
DeSoto Falls
(Mile 125)
DeSoto State Park is a nice place for a picnic lunch and a short drive off the Parkway takes you to
DeSoto Falls
, a beautiful 104-foot waterfall.
Mentone, Alabama
(Mile 140)
Mentone is a neat mountain-top community with restaurants, rental cabins and antique shops and is home to
Cloudmont Ski Resort
, the only ski resort in Alabama. Here the Parkway takes AL 117 into Georgia and connects with GA 157 to Lookout Mountain.
Chattanooga, Tennessee
(Mile 185)
The route ends at spectacular
Ruby Falls,
the highest underground waterfall in the Nation. Here's a field report by
Megan Edwards about her visit to Rock City!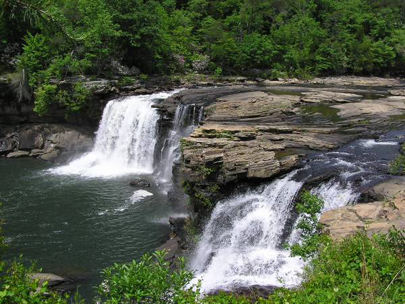 Little River Falls.