208 miles. Allow 6-8 hours with stops.
Route 66 conjures up memories and nostalgia like few highways in America. Before 1937, Route 66 went from Santa Rosa west to Albuquerque via Santa Fe to avoid the difficult mountain barriers east of Albuquerque. Along this historic route, one can see reminders of the pioneers of many cultures who explored, lived and worked in the area.
Here are a few highlights to look out for along the way:
Santa Rosa:
(Starting point)
Begin your trip here. Business Interstate 40 or historic Route 66 has a number of eateries and motels dating from the Route 66 era. The Route 66 Auto Museum and Blue Hole are Santa Rosa attractions.
Dilia:
(Mile 33)
You'll find the first pre-1937 Route 66 sign here in Dilia as well as the scenic Sacred Heart Church. It is halfway between Santa Rosa and Romeroville at I-25/
Las Vegas
(Mile 74)
For a break or fuel, take I-25 7 miles north to Las Vegas. The Santa Fe Trail goes through downtown Las Vegas.
Pecos National Historical Park
(Mile 102)
Pecos National Historical Park
preserves 12,000 years of history including the ancient pueblo of Pecos, Colonial Missions, Santa Fe Trail sites, 20th century ranch history of Forked Lightning Ranch, and the site of the Civil War Battle of Glorieta Pass.
Santa Fe
(Mile 138)
Park and walk around the historic
Santa Fe Plaza.
For art lovers, be sure to see the
Georgia O'Keeffe Museum.
The
Loretto Chapel
, with its beautiful circular staircase is another must-see stop.
Albuquerque
(Mile 187)
End your trip on Central Avenue, the route after Route 66 went directly from Santa Rosa west to Albuquerque.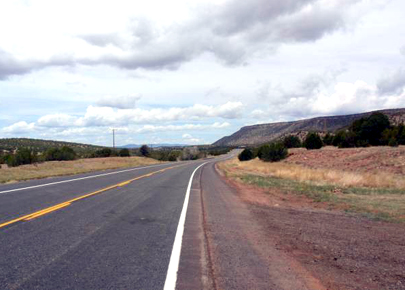 Get your kicks on the pre-1837 alignment
of historic Route 66