365 miles, 7-10 hours
This classic California-cruising road trip starts in the oil-rich lands surrounding Bakersfield, and then winds through the agricultural wonderland of the San Joaquin valley, with a side trip to Sequoia National Park, one of the nation's most beautiful national parks, Along the way, there are ample opportunities to enjoy shopping, dining and exploring the countryside. The trip ends at one of the world's largest family-owned vineyards.
Here are a few highlights to look out for along the way:
Bakersfield
(Start of Route)
Leaving downtown, take a stop at
Dewar's.
Family owned since 1909, Dewar's Candies offers delicious taffy candies (that are available in 13 flavors) and ice cream. Be sure to purchase a box of taffy candies to enjoy on the rest of your road trip!
Find Hotels and Motels Near Bakersfield
Tulare Preferred Outlets
(mile 65)
If you like to shop, exit Highway 99 at the Prosperity Avenue exit and follow the signs to the Tulare Preferred Outlets. There is also a movie theater and a few places to grab a bite to eat.
Crystal Cave, Sequoia National Park
(mile 135)
Sequoia National Park is open 24 hours a day, 365 days a year, weather permitting. Take a drive through the forest and then take
a guided tour of Crystal Cave
where you will see stalactites and curtains, and ornate marble that has been naturally polished by a subterranean stream. Visitors must hike a ½ mile trail to the entrance of the cave, and then the actual tour is 1 ½ miles with a 320' vertical gain, but the views are stunning and memorable.
Lemoore
(mile 220)
If you're in the mood for some gambling, make a stop in Lemoore at
Tachi Palace Hotel & Casino.
Along with a casino, there is a hotel with 255 guest rooms and suites, a spa and dining options.
Harris Ranch
(mile 254)
The Harris Ranch Restaurant
was established in 1977 and is a popular stopping place for travelers driving along Interstate 5. The restaurant is known for its great tasting and nutritional beef that is aged to tender perfection. The restaurant is open for breakfast, lunch and dinner.
Modesto
(mile 365)
Modesto was immortalized by native George Lucas in American Graffiti and the 'American Graffiti Cruising Loop' is available for cruising, just go to 9th and 10th streets (between G & K streets). After cruising, take a visit to the world's largest family-owned winery and largest exporter of wine in California,
E. & J. Gallo Winery
where you can end your road trip with a glass of California wine.
Find Hotels and Motels Near Modesto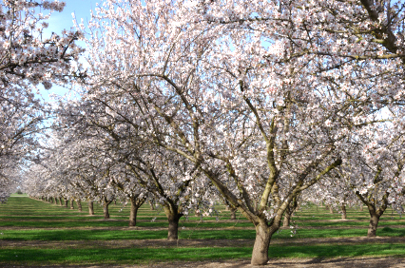 Almond Groves in the spring in the San Joaquin Valley
Photo courtesy of iStockPhoto.com/© David Gomez