259 Miles - Allow 6-8 hours
One of the top four states for biodiversity, from the mountains to the seashore, Alabama lives up to the tagline 'Alabama the Beautiful.' Join a native Alabamian for this route that roams the state from northwest to northeast. Veer off the Interstate and follow state roads and byways to music legacies, geological wonders, space travel and a little-known shopping hot spot.
Muscle Shoals
(starting point)
For over half a century, Fame Studios in Muscle Shoals has been a recording Mecca for country, rock and soul, known as the 'Muscle Shoals Sound'. Wilson Pickett, Aretha Franklin and Clarence Carter are among top artists that recorded hits at Fame. Heading south on Highway 43, stop at the Alabama Music Hall of Fame and Helen Keller's birthplace in Tuscumbia.
Dismals Canyon
(mile 45)
Continue on Highway 43 South to Dismals Canyon Conservatory, a National Natural Landmark. Dismal, no. Eerie, earthy and enchanting, yes. Stretch your legs on the 1.5 mile hiking trail that winds across forest floor through a Shangri-La like labyrinth of cliffs and caverns, boulders and waterfalls.
Natural Bridge
At Hamilton, head east on Route 278 to the Natural Bridge of Alabama – a great photo op. The 148-foot long, 60-foot high sandstone bridge evolved from natural forces millions of years ago.
Cullman
(mile 129)
After passing through the southern portion of Bankhead National Forest, make a pilgrimage to Ave Maria Grotto. The gardens showcase 125 miniature replicas of historic and biblical structures, the lifetime work of Benedictine monk Brother Joseph Zoettl.
Huntsville
(mile 170)
Swinging north on Highway 231, step back to the past and forward to the future at the U.S. Space & Rocket Center, birthplace of the nation's space program.
Scottsboro
(mile 225)
Ever wonder what happens to all of the lost and unclaimed luggage? Cash in on deals for trinkets and treasures at Unclaimed Baggage Center where thousands of new unclaimed items arrive daily.
Mentone
(mile 259)
This trendy little town perches on the edge of Lookout Mountain just miles from Tennessee and Georgia state lines. Linger awhile and enjoy the southern hospitality and scenery. Arrive in August and join the quest at hundreds of local stops along the multi-state 'World's Largest Yard Sale.'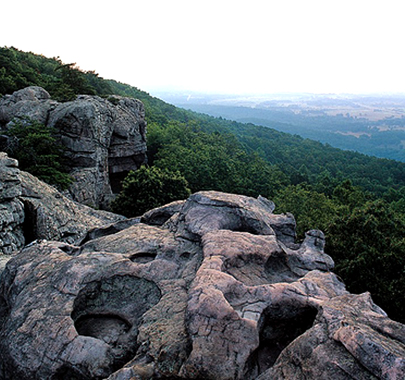 You can see all the way to Rome
(Georgia that is) from Cherokee Rock
Village near Mentone.
Photo courtesy of the Alabama Tourism Department