124 miles - 6+ hours
From Seattle to the San Juan Islands, take the long way - the uncommon corridors. You won't regret it. From Seattle, head north on I-5 for Woodinville Wine Country. Don't miss the amazing Boeing Future of Flight Museum & Plant Tour before driving onto a Washington State Ferry bound for Whidbey Island at Mukilteo. Meander the length of the scenic island to Anacortes and catch the next ferry to the San Juan Islands.
Here are some of the sites to look out for along the way:
Seattle
(Starting point)
Home of Amazon.com, Microsoft and Starbucks, Seattle dazzles despite a little drizzle. Soar to the top of the Space Needle at Seattle Center. Groove to the beat at Experience Music Project. Dodge the flying fish at Pike Place Fish Market in the oldest public market in the U.S. Sip a suds at Redhook Ale or Pike Brewing Company.
Find Hotels and Motels Near Seattle
Woodinville Wine Country
(mile 18)
Heading north on I-5, there are more than 60 wineries within 30 minutes of downtown Seattle. Chateau Ste. Michelle is Washington's oldest and most acclaimed winery. Also worthy of a toast: Novelty Hill/Januik and Columbia Winery.
The Future of Flight
(mile 35)
Get hands-on at interactive zones in the Future of Flight Museum before touring the largest production floor in the world at the Boeing Everett assembly plant. Watch giant cranes cruise along miles of overhead tracks delivering airplane parts and sections of fuselage to assembly crews building 787 Dreamliners. Tip: Tours are often sold-out. Get tickets in advance to avoid disappointment.
Whidbey Island
(mile 45)
Stash the car and enjoy the scenery aboard a Washington State Clinton-Mukilteo Ferry to Whidbey Island for the next leg of our journey. Exiting the ferry, go north on WA-525. Keep a sharp eye out for Captain Ahab's look-alike on the streets of Coupeville, City of Sea Captains. Stop by A Knot In Thyme horticultural farm and Island Bliss Alpacas in Oak Harbor. Save time for Deception Pass State Park before taking WA-20 East to Anacortes.
San Juan Islands (
mile 124)
Once again, drive aboard a Washington State Ferry at Anacortes and spend a few hours or days hiking, biking or kayaking at Friday Harbor on San Juan Island, Orcas Island and laidback little Lopez Island.
Find Hotels and Motels Near Anacortes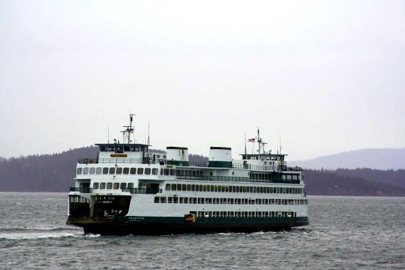 Drive aboard the Washington State Ferry bound
for the San Juan Islands from Anacortes, WA.