105 miles - 3 hour 30 minutes
This 105-mile roadway, surely one of the most scenic in the country, winds its slow way along the crest of the Blue Ridge Mountains. To the north there are clear, long-distance views way out over Shenandoah Valley. As you make your way south, these gradually develop into the classic Blue Ridge vista of tree-covered mountains layered one behind another in gradually fading shades of bluey-green. Take your time - it's a maximum 35 mph all the way. Oh, and do keep an eye out for bears - as many as 600 of them live here.
Heading south from Front Royal, these are some of the highlights to look out for along the way:
Dickey Ridge Visitor Center
(mile 4.6)
Get your bearings at
Dickey Ridge
, just inside the park. As well as maps and Ranger advice, there are exhibits, films and wonderful views. A number of easy trails start here, including Fox Hollow Trail which leads to some old home sites and a cemetery.
Luray Caverns
(an optional side trip, 20-miles there-and-back)
Luray is home to one of the USA's most remarkable cavern systems, known, fairly logically, as
Luray Caverns
. Take a walk through cathedral-size chambers and beside clear underground lakes and marvel at the organic, almost alien quality of the formations.
Skyland
(mile 41.7)
As well as being the highest point on the drive (3698 ft), Skyland is also the site of the popular
Skyland Resort
. Originally developed as 'Stony Man Camp' in the 1880s, it now offers good quality suites as well as old rustic cabins. There's a highly rated dining room plus nightly entertainment.
Rapidan Camp
(mile 52.8)
Restored and reopened to the public in 2004,
Rapidan Camp
was established in 1929 as the
summer retreat of President Herbert Hoover
. Three of the original buildings still remain and
Ranger-guided tours
are available. Rapidan Camp can be reached via the 2-mile Mill Prong Trail, which starts at the Milam Gap Parking area.
Lewis Mountain Campground
(mile 57.5)
There are a number of campgrounds along the way:
details can be found on the NPS site
. Lewis Mountain, the smallest, offers cabins as well as camping and trailer sites. The site is open from mid-April to late October and has all the facilities you'd expect including groceries, showers/toilets and laundry.
Loft Mountain
(mile 79.5)
As well as being the southernmost and largest of Shenandoah's campgrounds (with gift shop, gas and food as well), Loft Mountain is also the starting point for a number of trails, including the easy 1.3 mile Frazier Discovery Trail which offers great views to the west plus wildflowers, birds and a huge overhanging cliff. Visit the NPS website for
printable hiking maps
for all parts of the park.
Rockfish Gap
(mile 105)
Rockfish Gap is the southern terminus of the Skyline Drive. There's a very helpful
tourist information center
here, ideally located whether this is your starting point for Shenandoah or you're planning to continue your journey by heading south on the
Blue Ridge Parkway.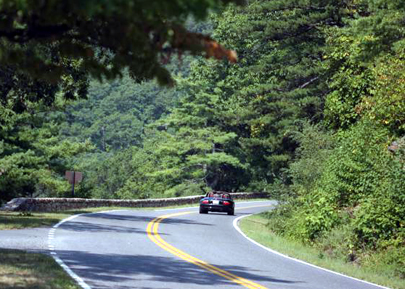 Curvy roads along Skyline Drive with plenty of
places to pull over and walk a bit.