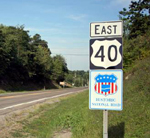 142 miles - 3 hours
Take a drive across east Ohio on the road that helped build America - the
Historic National Road
. Built between 1811 and 1839, this was the nation's first federally funded interstate highway. This scenic route through rural Ohio passes by a number of original National Road features then takes a diversion to the birthplace of General William Tecumseh Sherman before ending up in the state capital, Columbus.
Here are some of the highlights to look out for:
Bridgeport
(starting point)
Bridgeport may be the geographic starting point but, to be brutally honest, it's a place that offers few other reasons to visit. If you're looking for somewhere to stay, neighboring
Wheeling,
just over the Ohio River in West Virginia, is a far more attractive proposition, with its historic buildings, museums and scenic waterfront.
Blaine
(mile 4)
While many sections of today's U.S. Highway 40 follow the route of the original National Road, modernization and bypasses have left a number of original sections abandoned. Turn off into the tiny
community of Blaine
and you'll see three generations of road history: Blaine Hill Bridge (1828 – the oldest standing bridge in Ohio); an original brick paved section (1918) and the Blaine Hill Viaduct (1933).
Peters Creek S-Bridge
(mile 50)
S-bridges
, a feature unique to the National Road, were developed to enable the road to enter and leave a river crossing at structurally-sound 90 degrees, while maintaining the direction of the road. Peters Creek S-Bridge is a fine example of such a bridge.
National Road / Zane Grey Museum
(mile 59)
A two-for-the-price-of-one attraction, the
National Road / Zane Grey Museum
provides an insight into the history of a road that became known as the 'Main Street of America'. The most impressive exhibit is a 136-foot diorama of the road, taking you from its earliest beginnings through to its 1960s heyday. The second part of the museum is dedicated to western author Zane Grey.
Lancaster, birthplace of General Sherman
(mile 106)
While the National Road section from Zanesville to Columbus continues to pass through beautiful countryside, this diversion onto U.S. Route 22 is equally scenic and leads first through Somerset, with its impressive statue of former resident General Philip Sheridan, and then to Lancaster and the superb
Sherman House Museum
, birthplace and boyhood home of General William Tecumseh Sherman.
Columbus
(mile 142)
This route ends in Columbus, Ohio's state capital (although the National Road does of course continue west, all the way to Vandalia, Ill.). Attractions in
Columbus
include the
Museum of Art
and the kid-friendly
Center of Science and Industry
. If you're looking for something livelier, Columbus has a busy night scene and an aptly named Brewery District.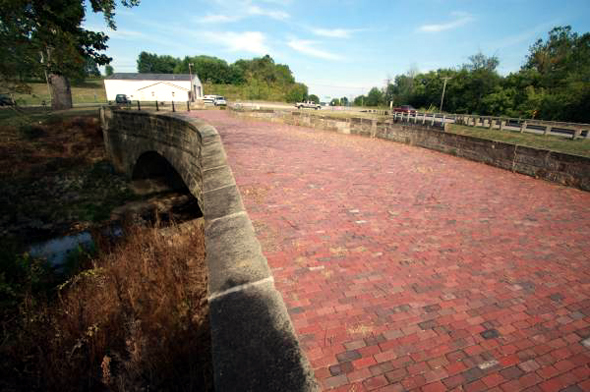 Peters Creek S-Bridge, an architectural technique
for crossing rivers unique to the Historic National Road