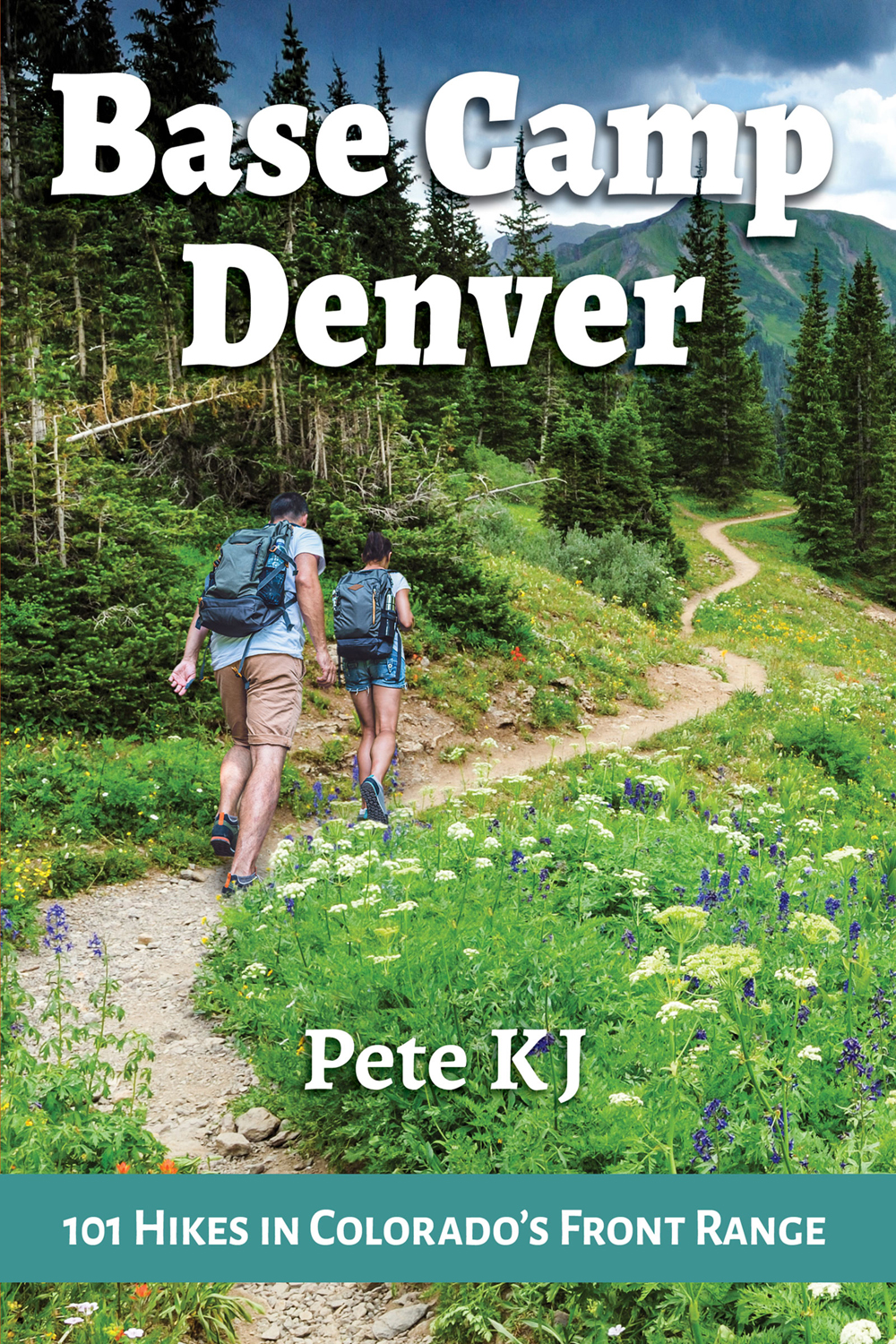 Gather up my hiking boots, pack and hiking sticks! After reading
Base Camp Denver
I can't wait for my next trip to the Front Range in Colorado. Pete's photos and descriptions bring the hikes alive and make me want to check off all 101 hikes! All hikes are in easy reach of the metropolitan cities found along the Front Range. No matter what the season or how challenging you want the hike to be, there will be one or more hikes that match.
The book is laid out so you can find hikes by geographic area; close to Fort Collins, Loveland and Longmont, Boulder, Denver as well as Idaho Springs and Georgetown, Summit County, Conifer and Bailey and south of Denver. Or, search for a hike by level of difficulty, season or your special interest in the "Choose Your Perfect Hike" lists.
Be sure to read section, "Before you Hit the Trail," at the beginning of the book. It's tempting to dive right into choosing a hike, but Pete has included essential information and reminders for seasoned Front Range hikers as well as the out-of-town visitor. He explains the rating systems he has used and elaborated on critical elements of safety such as weather and hiking at altitude unique to this area.
Once you have zeroed in on a possible hike, it's easy to determine if it's a match. Each hike has a chart, "At a Glance," which includes rankings and information on difficulty, trail conditions, suitability for children, scenery and photo ops, and a ranking for solitude. The chart also gives other essential information like distance and time, trailhead elevation and elevation gain, features, best season to hike, other users - like horses and bikers - and notes about items like entrance fees, toilet facilities and other useful information.
Within the text are vivid descriptions of the hike as well as expansion on items that are important for safety or enjoyment. Pictures give you a reference for scenery along the way or your destination. Pertinent facts about history, geology or archeology add interest to hike. Back in the 90s, I volunteered at Rocky Mountain National Park one day a week at Wild Basin. Reading the description of the Wild Basin Trail (#26) brought back memories of spotting the aquatic songbird—the ouzel—diving for food along the stream bottom as well the cascades of water along the lower trail and the satisfaction of eventually reaching the alpine lakes.
My husband, a long time resident of Monument, just north of Colorado Springs remembered the scenic beauty of Castlewood Canyon (#88). It's a relatively easy hike along Cherry Creek with the interesting remains of an old dam that broke in 1933. On our next visit to Colorado Springs to see family, I've bookmarked Red Rock Canyon (#92), similar in geology to the very popular Garden of the Gods, but less crowded. The "solitude" is one figure - my kind of hike! Pancake Rocks (#100) on the side of Pikes Peak has great views and interesting geology. Both will be good workouts but not too strenuous for family not used to higher elevations.
Base Camp Denver
is a reference locals and visitors will want for their own. Visitors can pick the best hikes to fit the time they have. For locals, it will take a while to check off all 101 hikes and enjoy the variety and scenic beauty that is special to the Front Range.
Base Camp Denver: 101 Hikes in Colorado's Front Range by Pete KJ
There is also an
e-book of this title.
--
Jaimie Hall Bruzenak
has been a contributing writer on RoadTrip America since 2008. She is an accomplished hiker and an expert RVer, having lived full-time on the road for eight years, and now travels with her husband, George, several times a year exploring the back roads of America. She is the author of "Retire to an RV: The Roadmap to Affordable Retirement" , "The Woman's Guide to Solo RVing" and "RV Traveling Tales," and is the owner/editor of Retire to an RV.com She is a frequent contributor to the RoadTrip Attractions department.