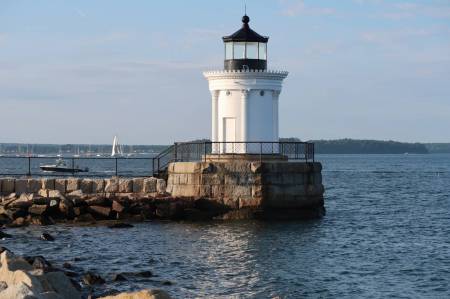 One of several distinctive lighthouses around Portland, the Portland Breakwater Lighthouse was constructed in 1875 to replace an older wooden lighthouse. Constructed of cast iron and designed in a Greek architectural style, it was dubbed Bug Light because of its diminutive height of only 30 feet. It's now decommissioned, and is very easy to examine up close. The park around the lighthouse is a popular spot for walking, picnicking, kite flying and other activities. During warmer months it's home to special events like a kite festival and outdoor movie nights.

If you go:
The park is always open and there is no admission charge.
Links:
South Portland Greenbelt Pathway
South Portland, Maine 04106 USA
kadams@southportland.org
Mailing address:
South Portland Parks, Recreation, and Waterfront
21 Nelson Rd.
South Portland, ME 04106 USA
Phone Numbers:
Parks, Recreation, and Waterfront
+1 (207) 767-7650