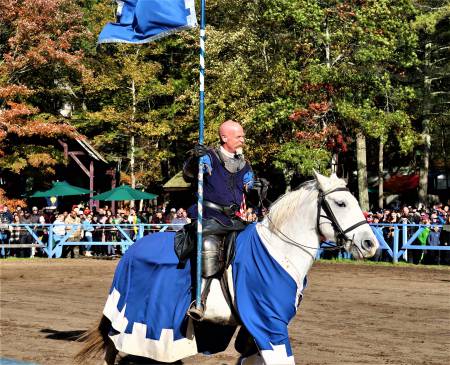 Every fall since 1982, the Renaissance and Medieval eras have come to life in a recreated rustic village near Carver. With music and other entertainment by performers in period costume, food and drink, and recreational activities, the Faire offers something for everyone. Try your luck at archery or hatchet throwing. Take a ride on ingeniously designed carnival rides powered by muscle rather than by machine. See knights in armor engage in jousting and competitive games on horseback. And if at all possible, catch a performance by the Washing Well Wenches, who will make you howl with laughter.

If you go:
Open 10:30 to 6:00 September through late October, on weekends as well as Labor Day and Columbus Day. Plenty of free parking. No outside food or drink.
Links:
235 Main Street
Carver, Massachusetts 02330 USA
info@kingrichardsfaire.net
Mailing address:
Corporate Office
140 Gideons Point Rd.
Tonka Bay, MN 55331 USA
Phone Numbers:
Corporate Office
+1 (952) 238-9915
Faire Site
+1 (508) 866-5391