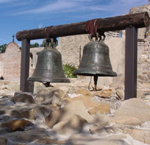 85 miles. Allow 4 to 5 hours
Follow the coastal route along the ocean from San Diego, site of the first Spanish mission in California, to the best known mission, San Juan Capistrano. Each beach town along the route has a shopping area and access to the beach. This route from San Diego to San Juan Capistrano can be done by Amtrak train. To visit the mission, you can take the San Diego trolley. Board the Red line Trolley downtown, then transfer to the Green line trolley at Old Town and continue to the San Diego mission.
Here are a few highlights to look out for along the way:
San Diego
(Starting point)
Begin your trip here. If you take the train, board at the
Amtrak depot
at 1050 Kettner Boulevard downtown.
Find Hotels and Motels Near San Diego
Mission San Diego de Alcalá
(Mile 8)
The oldest of the missions,
San Diego de Alcalá
is located 6 miles from San Diego on Presidio Hill. At the mission stands a large cross on which the following words are written: " Here Father Serra first raised the cross. Here began the first mission, here the first town, San Diego, July 16, 1769."
Carlsbad
(Mile 40)
Stop to stretch your legs in
Carlsbad
. Get a cup of coffee and wander around the shops near the Amtrak station between Carlsbad Village Dr. and Grand Ave.
Side trip to Legoland
(Mile 38)
Take a side trip to
Legoland
. If you have taken the train, you can catch the MTS Bus 321 on weekdays from the train station in Carlsbad. Add a minimum of 3 or 4 hours for your visit.
San Juan Capistrano
(Mile 82)
Mission San Juan Capistrano
is called the "Jewel of the Missions," and is probably best known of all 21. Each St. Joseph's Day, on March 19, is the celebration of the swallows returning to San Juan Capistrano after their long migration from Argentina. The nearby historic
El Adobe Restaurant Mission
has excellent Mexican food. The Amtrak depot also serves meals.
Find Hotels and Motels Near San Juan Capistrano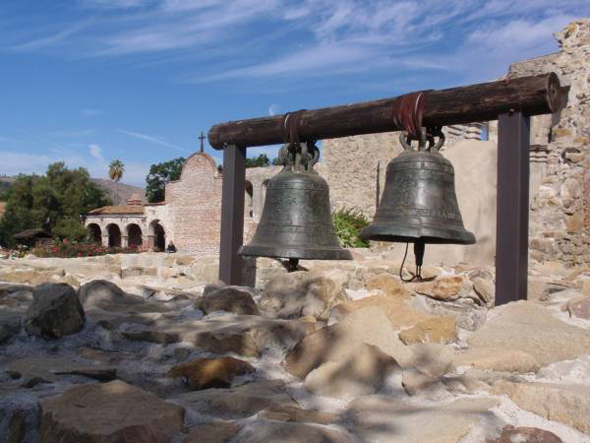 Mission San Juan Capistrano bells