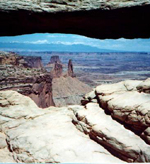 136 miles, about 8-10 hours
This day trip from Moab offers a visit to Canyonlands National Park and spectacular views of desert plateaus, arches, spires, and even a meteor crater. Dead Horse Point has a haunting legend behind its name and recent fame from its appearance in feature films.
Here are a few highlights to look out for along the way:
Moab, Utah
(starting point)
From town, drive north to the intersection of UT-313 which will take you to Dead Horse Point State Park. There is one stop along the way at a small rest area just after you reach the top of the plateau. There are two huge rock buttes named Monitor and Merrimack that resemble their namesakes, two Civil War ironclad ships. They make a nice picture.
Dead Horse Point State Park
(Mile 34)
Dead Horse Point.
Here is a spot that might seem familiar to you, since it has been used in many commercials and movies, including
Mission Impossible 2.
Dead Horse Point is the mesa below on the Colorado River. Legend has it that a herd of horses was stranded there in the 1800s, and they starved to death. It makes for wonderful and colorful photos, as do the potash evaporation ponds in the distance.
Mesa Arch Trail
(mile 55)
Canyonlands National Park
is where you'll reach the Mesa Arch trailhead.The hike out to Mesa Arch is about ˝ mile each way, but it isn't strenuous. The view is well worth the hike, both through the mesa toward the La Sal Mountains and down the 500-foot cliff on the other side.
Upheaval Dome
(mile 60)
It is a short drive out to
Upheaval Dome
, which looks like a meteor crater with a raised center dome. The depression is about 3 miles across, so it is impressive. Nearby is aptly named Whale Rock, but it requires a steep climb up slick rock to get to it. Allow an hour to visit it.
Green River Overlook
(mile 66)
On the way back from Upheaval dome, make a short detour to Green River Overlook. This stop affords a view west across the canyon formed by the Green River before it merges with the Colorado a Few miles further south. You will also see why Canyonlands is also called "Island In the Sky".
Grand View Point
(mile 73)
Now take the right fork at the Mesa Arch Trailhead and go to the farthest point in the north area of Canyonlands,
Grand View Point.
This is perhaps the most expansive view in Utah, rivaling the similarly named viewing area in Grand Canyon, Arizona. Miles and miles of canyons, spires and desert plateau are visible, as are the la Sal Mountains to the east. As at most points in the park, there is a trail down into the canyon.
Moab, Utah
(mile 136)
Your return to Moab, is a 63-mile drive without any stops. Here is
one of my photo galleries
from this area.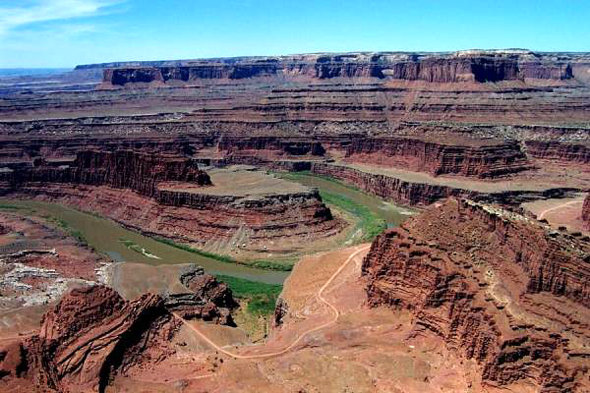 Dead Horse Mesa as seen from Dead Horse
Point State Park. The Colorado River flows past the mesa
into Canyonlands National Park.