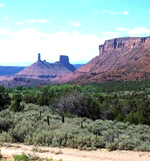 100 miles, about 8 hours
Moab, Utah is the gateway town to two national parks and in the middle of some of the best scenery that the west offers to photographers. It's easy to spend a week or two here and only barely scratch the surface. The slick rock country is also a haven to whitewater boaters, off-highway bicyclists and road trippers of every persuasion.
Here are a few highlights to look out for along the way:
Moab, Utah
(Starting point)
The drive starts in downtown Moab, a quaint little western town with many hotels and restaurants, and curio shops. Although Arches National Park is right outside Moab, there are other sights to see on a loop road that few visitors to this area experience.
Old Airport Road
(mile 8)
Old Airport road
is about 8 miles out of town, and you have to watch for it to come up on your left. It doesn't look like a well-traveled road (it isn't) and almost immediately after you get on it you have to turn again to the right at a T in the road. It starts out as Old Airport Road, becomes Spanish Valley Road, and then bears left to become Geyer Pass Road. Later it will become Mountain Loop Road. Don't let all the name changes confuse you. Just stay on paved surface and you'll be fine.
La Sal Mountain Overlook
(mile 16)
Soon you start to climb into the La Sal Mountains, and you pass through scrub cedar with lots of side roads to cabins set back from the main road. There are several pull off points further up, so press onward to the crest. When you reach it, you will be looking down over Canyonlands National Park to the west and Arches National Park to the north. You can also view the huge rift, or uplift of red rock that you drove along coming into and out of Moab.
Castleton Tower
(mile 40)
There is sometimes snow in the mountains, so it is best to drive this road from May to October. If you are there in the summer, it is cooler up in the mountains, so it is a pleasant drive. The loop road is almost 40 miles long, and some of the best scenery is at the north end, where you drop down into Castle Valley. As you do so, you'll see a free-standing spire named
Castleton Tower
, with another large wall behind it named The Rectory. When you get into the valley there is a turnoff to go out to the tower, and then you will also see the third formation, The Priest and Nuns, behind The Rectory.
Prairie Dog Village
(mile 63)
When you cross the Colorado River–it is more a stream here– near Dewey, the countryside opens up to scrub desert. Keep watch for movement at the side of the road, because there is a huge prairie dog village on both sides of the road. Stop for a While and enjoy the little critters.
Arches National Park
(mile 100)
Arches National Park
has many natural arches and more of the sheer rock walls and pillars that abound in this area. The most famous arch is the one you see on the Utah license plate, Delicate Arch. You can hike out to it if you want to take an hour or two to do so, but you can also see it and photograph it from the parking lot at the Wolfe Ranch. You might need a telephoto lens, though. The park has many side roads and several hiking trails. It will take several hours to see and enjoy everything Arches has to offer.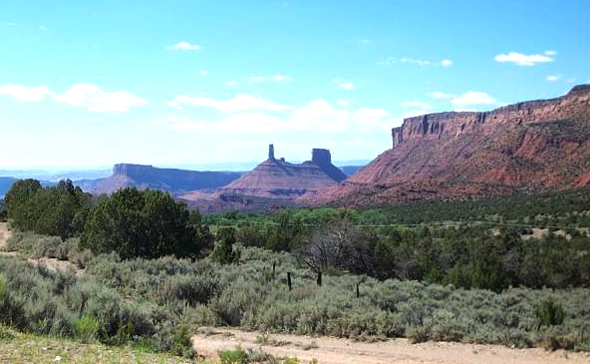 Castle Valley near Moab, Utah