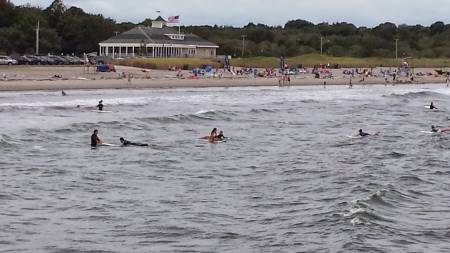 A fine 19-acre beach, Narragansett is located in a quaint Rhode Island town with plenty of New England charm. The sand and surfing are excellent, parking and full services are available. One of 3 beaches in the city, this one is next to the historic landmark known as The Towers, built as part of a casino in 1883.

If you go:
Address given is for one of 3 access points, all in the same vicinity. Admission is charged, and parking is extra, though you may be able to find street parking nearby. Beach is open on weekends from Memorial Day to early June, and then daily until Labor Day.
Links:
77 Boston Neck Road
Narragansett, Rhode Island 02882 USA
shassell@narragansett.gov
Mailing address:
25 Fifth Ave.
Narragansett, RI 02882
Phone Numbers:
Narragansett Beach Manager
+1 (401) 783-6430
City Of Narragansett
+1 (401) 789-1044