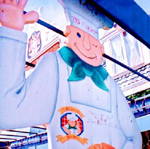 250 miles, about 5 to 6 hours
U.S. Highway 395 between Reno, NV and Victorville, CA is a very scenic drive at any time of the year, encompassing snow-capped mountains, lush forests, historical lore, gaming establishments and other enticing attractions. The stretch from Reno to Manzanar National Park is especially noteworthy, and is, weather permitting, easily manageable in a single day. But there are plenty of reasons to make it last longer.
Here are some of the highlights to look for:
Reno, NV
(Starting Point)
Reno, the "Biggest Little City in the World", has a reputation as a place to get a quick divorce, win (or lose) a quick fortune, and maybe catch a show. But did you know that you also can go kayaking in the heart of the city? The beautiful Truckee River runs through downtown, and a whitewater park in the thick of the casinos offers a challenging course to kayakers of all skill levels. Nearby is a superb collection of rare and classic automobiles at the
National Automobile Museum
. If your muscles are sore from kayaking or winning too much money, you might stop for rejuvenation at the
Steamboat Villa Hot Springs and Spa
just south of the city.
Find Hotels and Motels Near Reno
Carson City, NV
(Mile 30)
The capital of Nevada and a gambling town in its own right, Carson City boasts a number of historical sites, including the former home of Orion Clemens (Mark Twain's brother) when he was territorial secretary of Nevada. It's also home to the
Nevada Railroad Museum
which offers rides on antique steam and diesel trains. There's even a
scenic ride available
to the colorful living ghost town of Virginia City, high up in the mountains.
Bishop, CA
(Mile 199)
The
Paiute Palace Casino
will greet you as you're approaching town, and it might be a good place to unwind a bit after a long drive. But an even better place can be found just a few blocks farther:
Erick Schat's Bakkery
- yes, that's how it's spelled- a baked goods emporium established in 1938 by an accomplished Swiss baker. If you arrive early enough in the day, you'll find an ample assortment of day-old treasures at reduced prices; but no matter when you get there, you won't be able to resist taking home a bag or two of exquisite breads and/or sweets. And you'll probably even end up having some on the premises with a cup of coffee or tea.
Manzanar
(Mile 250)
Just south of Lone Pine sits
Manzanar National Park
, the former site of the best known of the ten "relocation camps" for Japanese-Americans during World War II. The recently reconstructed building that serves as the interpretive center offers a poignant, informative glimpse into what life was like for the men, women and children confined here in their miniature city. And you can stroll around the grounds to explore the ruins of the complex. Be sure to check out the memorial obelisk where visitors have left tokens of goodwill.
Find Hotels and Motels Near Lone Pine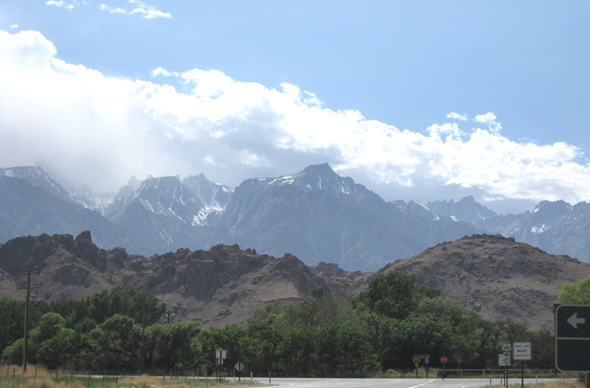 Alabama Hills in the foreground with Mount Whitney
at the right, as seen from US-Hwy 395.