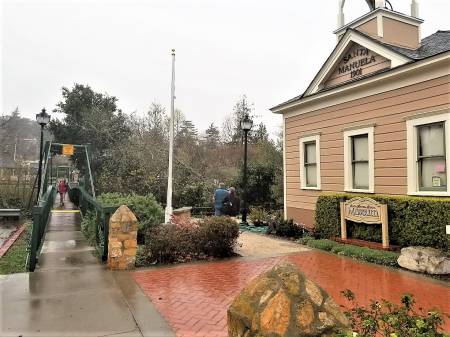 In the heart of the colorful little town of Arroyo Grande, this heritage park contains a couple of noteworthy museums and more. The Santa Manuela Schoolhouse is a one-room schoolhouse built in 1901 and now restored with period furnishings. The Barn Museum houses agricultural implements and antique vehicles and carriages. Additionally, the bandstand is the scene of special events including free concerts during the summer. But the centerpiece is the Swinging Bridge, originally built in 1875 and reconstructed in 1995. With the bridge spanning 171 feet, 40 feet above the beautiful Arroyo Grande Creek, the slightly frightening but infinitely charming stroll across it is something you just have to do.

If you go:
The schoolhouse and barn are open only on Saturday and Sunday afternoons. You can contact the city of Arroyo Grande by email or phone and order a novelty "lifetime pass" to the Swinging Bridge, which in fact is free to cross. Just across the bridge is a row of restaurants and shops including Jaffa Cafe, which offers excellent Middle Eastern food at a low price, and the best baklava you ever tasted.
Links:
201 Nelson Street
Arroyo Grande, California 93420 USA
agcity@arroyogrande.org
Mailing address:
City Hall
300 E. Branch St.
Arroyo Grande, CA 93420 USA
Phone Numbers:
City Hall
+1 (805) 473-5400