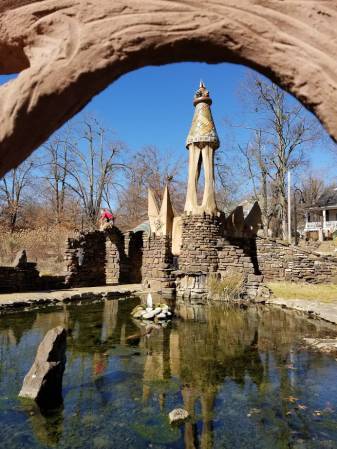 Wilson Park just might be the coolest small city park you'll ever see. It has a long history as a popular spot for picnicking, swimming, and general frolicking. But the special draw for the past three decades has been an unbelievable work of art commonly called The Castle, though its creator, Frank Williams, officially named it Point 7. It does feature a fairy tale castle large enough to climb on, benches, walkways, and several pieces of fantasy sculpture all seamlessly woven into an organic unit. The details are astonishing, mesmerizing and seemingly endless. A fun place for kids of all ages, including those fully grown.

If you go:
Open every day during daylight hours. There's also an absolutely perfect tree for climbing on, and it's hard to resist doing so no matter what your age.
Links:
205 West Prospect Street
Fayetteville, Arkansas 72701 USA
parks_and_recreation@fayetteville-ar.gov
Mailing address:
City Of Fayetteville
113 W. Mountain St.
Fayetteville AR 72701 USA
Phone Numbers:
Fayetteville Parks
+1 (479) 444-3471