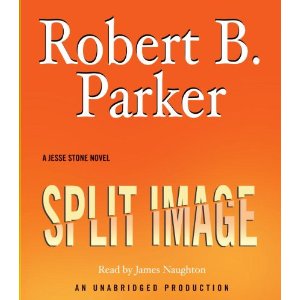 Jesse Stone thinks he is seeing double when he meets the beautiful twin sisters who are married to Paradise businessmen and former mobsters. He is sent into a psychological tailspin of envy, observing the idyllic relationships these perfect "Stepford" wives appear to have with their undeserving husbands and thinking of his own failed marriage. His perceptions change, though, as he learns more about the "Bang, Bang Twins" and the parts they and their husbands play in the most recent rash of Paradise murders. Helping him overcome his funk, is Sunny Randall, a private investigator and sometime girlfriend who comes to Paradise on a case involving a runaway girl and a suspicious cult.
Peopled by the usual cast of characters from previous Jesse Stone mysteries, Split Image brings Jesse and Sunny together again as they pursue their job-related quests. Thrown together professionally, they acknowledge their attraction to each other and they allow themselves to become more emotionally involved as they both learn to accept and dismiss their flawed relationships with former partners. Their respective therapists, Dix and Dr. Silverman, are instrumental in not only helping Jesse and Sunny personally but in explaining the psychological dynamics of the cases on which they are working. Jesse's co-workers, Molly Crane and "Suit" Simpson provide both stability and comic relief in this latest and last Parker treasure. When "Suit" starts mimicking Jesse's humorous habit of responding to serious questions with one word answers it's obvious he's trying to emulate Jesse and move up the chain of the Paradise police command, but Jesse's anchor, Molly, will not be easily passed over.
The combination of intriguing plot, familiar and memorable characters, spare, clipped dialogue that evokes chuckles and reflection and an inspired performance by James Naughton make this an absolutely delightful audio book. Robert B. Parker's novels have captivated millions of readers, and Split Image lives up to his reputation for first rate entertainment and enlightenment. Highly recommended.
Split Image
by Robert Parker and James Naughton
Read by James Naughton
Random House Audio, unabridged: 5 hours on 4 CDs