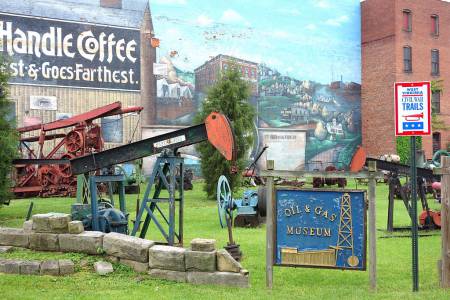 The region around Parkersburg has a storied history of petroleum exploration and speculation going back at least to George Washington, who purchased some land here. The local oil industry has made many people fabulously wealthy, and that history is preserved in this modest little museum in the heart of Parkersburg. The interior, which has the feel of a dusty old attic, has three floors of photos, documents and equipment, with additional larger artifacts outside. A knowledgeable guide is on hand to answer your questions.

If you go:
Open daily from 11 AM to 4 PM on weekdays, and until 5 PM on weekends.
Links:
119 Third Street
Parkersburg, West Virginia 26101 USA
Mailing address:
Parkersburg Convention and Visitors Bureau
350 7th St.
Parkersburg, WV 26101 USA
Phone Numbers:
Oil and Gas Museum
+1 (304) 485-5446
Visitors Bureau
+1 (304) 428-1130
Visitors Bureau Toll Free
+1 (800) 752-4982