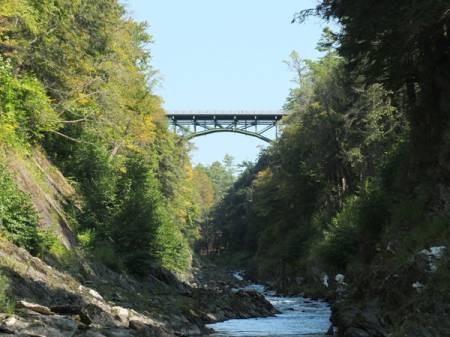 Known as Vermont's "Little Grand Canyon," Quechee Gorge was formed from glacial activity and erosion. Park at the visitor center or state park east of the bridge and then walk back or follow the path to view the Quechee Gorge 168 above the flowing Ottauquechee River. You can also hike down to the bottom of the gorge on a wide, sloping path.

If you go:
The visitor center has ample parking with restrooms. Shops and restaurants nearby. Or camp or hike from Quechee State Park. RVs can park in both locations. A dam is above the bridge so beware of sudden high water in the event of a break if following the trail to the bottom of the gorge. Use caution when crossing Highway 4 to view the gorge.
Links:
Quechee Gorge Visitor Center
5966 Woodstock Road,
Quechee, Vermont 05059 USA
Mailing address:
Quechee State Park
5800 Woodstock Rd.
Hartford, VT 05047 USA
Phone Numbers:
Quechee Gorge Visitors Center
+1 (802) 295-7900
Quechee State Park
+1 (802) 295-2990