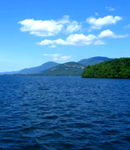 105 miles – 3, 4 or perhaps 5 hours or more
This trip is not only scenic, but lots of fun. Starting in Albany, hop on Interstate 87 and head north. You will likely be tempted to make lots of stops along the way, just to enjoy the view. Road trippers will discover towns that offer history lessons, horse racing, balloon rides and more. The gorgeous Adirondack Mountains await the traveler, along with a peek of nearby Vermont.
Here are a few highlights along this route:
Albany, New York
(starting point)
Before taking off on your trip, you may want to visit some of the government buildings and historic churches that are part of the state capital's rich history.

Saratoga Springs
(mile 33)
"And they're off," is the call often heard at the popular
Saratoga Race Track
. Check the race schedules. Also known for its mineral water, there are 17 mineral springs scattered around the city. Be sure to stop and get a sip of the water many say has numerous health benefits, while others claim it reminds them of rotten eggs. You be the judge.
Glens Falls
(mile 50)
Historic downtown
Glens Falls
offers walking tours, specializing in after dinner tours. Kids too can enjoy this stop, especially at Bonkers, a family entertainment center with 15,000 square feet of inflatable bounces and fun for the entire family. And if you are daring, don't forget the
breathtaking balloon rides.
Lake George
(mile 62)
Just walking up and down the
streets of Lake George
can be fun. Restaurants, gift shops and candy making stores (yum) are some of the retail establishment found at the "Gateway to the Adirondacks." Hop aboard one of the many tour boats for a ride on breathtaking Lake George, a treat you don't want to miss.
Ticonderoga
(mile 105)
Fort Ticonderoga and the King's Garden
are both "must see" stops in Ticonderoga. The award winning formal gardens are as gorgeous as the fort is historic. From the shores of Lake Champlain, visitors get a view of Vermont. Ticonderoga also marks the spot where Lake George empties into Lake Champlain.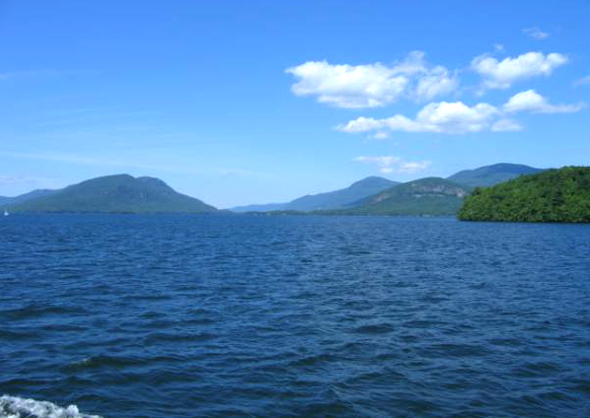 Lake George offers a spectacular view
of the Adirondack Mountains
Photo by Anne Sponholtz