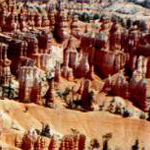 259 miles and 10-12 hours
On this route, you can visit four national parks or monuments in southwest Utah. They are Zion, Kolob Canyons, Cedar Breaks and Bryce Canyon. This is a dream road for photographers as the light and scenery, on most days. may be unsurpassed in the west. Whether you're seeking wild animals, fanciful rock spires or gorgeous waterfalls, you can find them all here.
Here are a few highlights to look out for along the way:
Kanab, Utah
(Starting point)
Within a 100 mile radius, you can drive to six national parks and one state park. You need more than a day to visit all of them, so only four are on the itinerary. Even this is a long day, so you might consider a two-day tour to include more time at each park especially if you want to hike extensively in the parks.
Zion National Park
(mile 47)
Zion National Park.
Donít miss the photogenic Checkerboard Mesa on the way in. Spend the morning in Zion, exploring the canyon and hiking up into The Narrows, if youíre up to it. When you finish there, go out the west exit to I-15 and turn north. Exit 40, 13 miles up the road is the exit to the Zion/Kolob Canyons.
Kolob Canyons
(mile 97)
Kolob Canyons,
is quite different Zion in that it has several narrow (slot) canyons. There are three hiking trails in the park. Allow at least two hours there viewing a unique landscape.
Cedar Breaks
(mile 144)
After Kolob Canyons, continue north on I-15 to Cedar City, turning east onto Utah Route-14 and then north on Utah Route 148 to Cedar Breaks National Monument [
http://www.nps.gov/cebr]
, a smaller version of Bryce Canyon, but bowl shaped and easier to view in an hour or less. This part of the trip is subject to cancellation, because the park is closed from October 1 to late May. The rim is at 10,000 feet and is subject to heavy snows in winter.
If Cedar Breaks is closed for the winter, an alternative side trip would be to the
Pink Coral Dunes State Park
near Kanab.
Bryce Canyon
(mile 200)
Bryce Canyon National Park.
If you drive all the way to the south end of Bryce Canyon to Rainbow Point, all of your stops on the way back will be right turns with no opposing traffic lanes to cross. Of Course, you can also use the Bryce Canyon Shuttle if you donít want to drive in the park. Take your time and enjoy the 50-mile view out over the Grand Staircase-Escalante National Monument.
Mt Carmel Junction
(mile 259)
Lodging if available here and stop for dinner at the Thunderbird Lodge Restaurant and watch the numerous hummingbirds (in summertime) dart back and forth between feeders outside the picture windows.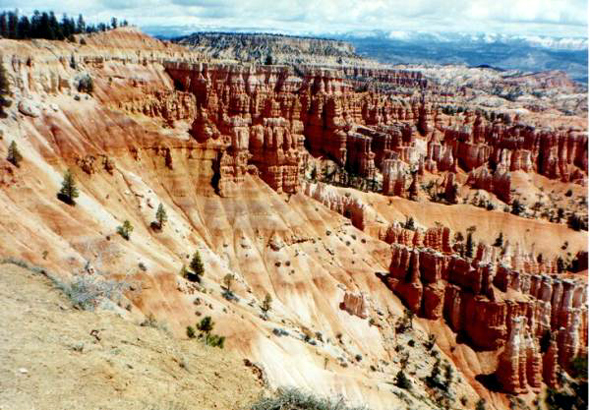 Bryce Canyon as seen from Inspiration Point