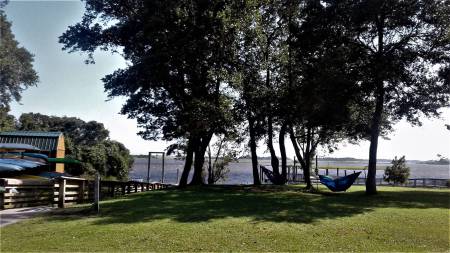 Bring your own kayak or canoe if you wish or you can rent one here. Hammocks Beach is a great place to launch from and enjoy scenic coastal features as well as fishing, hiking and special programs. You can also swim and camp on Bear Island , which you can paddle to yourself or reach by ferry. Campsites are available all year, with full amenities in season. And yes, there really are good places to put up a hammock.

If you go:
The park and the park office are open every day except Christmas. Ferry service during warmer months only, and schedule subject to change.
Links:
1572 Hammock Beach Road
Swansboro, North Carolina 28584 USA
hammocks.beach@ncparks.gov
Mailing address:
North Carolina Division of Parks & Recreation
121 W. Jones St.
Mail Service Center 1615
Raleigh, NC 27699 USA
Phone Numbers:
Hammocks Beach State Park
+1 (910) 326-4881
NC Div, Of Parks and Rec.
+1 (919) 707-9300