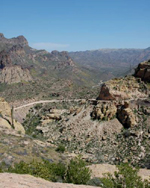 115 miles, 6-7 hours
Drive the historic road built between 1903-1905 by the United States Reclamation Service to bring supplies for the construction of the Theodore Roosevelt Dam which was built to bring water to Phoenix. The road takes you through spectacular desert scenery. A 22-mile stretch is unpaved and has one steep grade.
Here are a few highlights to look out for along the way:
Mesa
(Starting Point)
Begin your road trip on Main Street in Mesa, the original beginning of the historic Apache Trail. As you head east, keep an eye out for historic motels that once attracted visitors, like the Buckhorn Baths and the Kiva Lodge. Main Street becomes Apache Trail.
Apache Junction
(Mile 23 )
Take Highway 188 north. Be sure you have plenty of fuel before leaving the Apache Junction area. Few services can be found along this route. You might also want to pack snacks or a picnic lunch to eat at a picnic area at Canyon or Apache Lakes. You could also eat at the
café at Tortilla Flats,
an old stagecoach stop.
Apache Trail
(Mile 26)
Spectacular scenery awaits you on this historic drive. To your right as leave Apache Junction, you'll see the jagged peaks of the Superstition Mountains and Weaver's Needle, a majestic spire that dominates the skyline. After the road turns to dirt, you'll descend a steep grade to Fish Creek—stop at the overlook first.
Tonto National Monument
(Mile 69)
When you reach Highway 188, turn east. Make a stop at
Tonto National Monument
to see the cliff dwellings lived in by the Salado peoples. It's a nice place to stretch your legs.
Globe-Miami
(Mile 115)
If you have time and energy, the
Globe-Miami area
has interesting history. At the Besh-ba-Gowah Archeological Park in Globe, you can walk through rooms in a Salado cliff dwelling. You'll find food and services here too. You can take Highway 60 west back to Apache Junction and Mesa.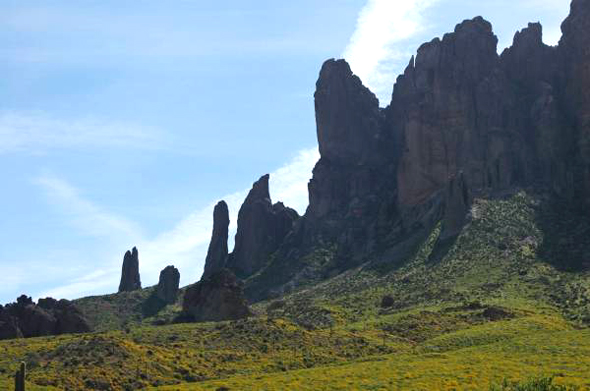 Spires and other formations, formed by molten magma
cooling beneath the surface of the earth
and now exposed through erosion,
are visible from the Apache Trail.