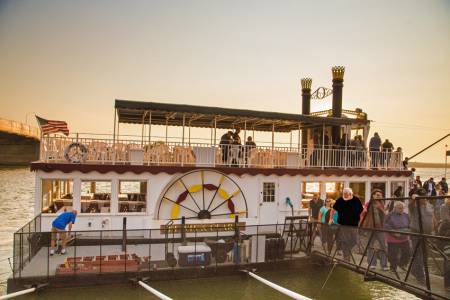 The exploits of the Corps of Discovery are celebrated along the length of the Missouri and the opportunity to follow in their bow waves makes the Lewis and Clark Riverboat a popular attraction. If you're a history buff looking to expand your knowledge of the expedition, you may find the commentary a little shallow, but if you simply want to spend a pleasant couple of hours watching the world go by, maybe enjoying a beer or two, and listening to the soft rock that's piped over the Tannoy system, you'll have great time.

If you go:
Cruises run from May to September and take place at various times of the day, with brunch, BBQ and pizza cruises among the themes. The sunset cruises are among the most popular so book well ahead.
Links:
1700 N River Road
Bismarck, North Dakota 58503 USA
Mailing address:
Mandan Depot
401 West Main St.
Mandan, ND 58554 USA
Phone Numbers:
+1 (701) 255-4233