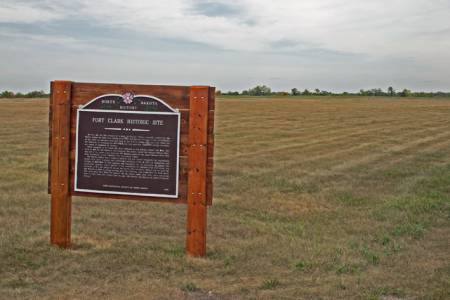 As historic sites go, Fort Clark is among the most important in North Dakota. Built in 1830 with the aim of trading with the nearby Mandan village, its history was recorded by chief trader Francis Chardon, by explorer Prince Maximilian, and in the work of artist Karl Bodmer. Its location next to the Missouri River helped build trade but also brought smallpox, leading to the death of 90% of the Indians. More than 2,200 surface features represent the ruins of houses, graves and storage pits.

If you go:
Do not expect to see anything more than vague shapes in an otherwise unremarkable field! There are interpretive signs but it's really a case of imagining what was once there. Admission is free and there are modern restrooms.
Links:
37th Ave SW
Stanton, North Dakota 58571 USA
histsoc@nd.gov
Mailing address:
Fort Clark Trading Post Historic Site
612 E Boulevard Ave.
Bismarck, ND 58505 USA
Phone Numbers:
+1 (701) 328-2666