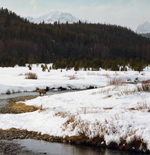 116 miles – 2 hours 15 minutes
This spectacular route begins in Shoshone then heads north past some of Idaho's most spectacular scenery including lakes, forests and the appropriately named Sawtooth Mountains. Stop along the way to explore ancient ice caves, people-watch in the pretty town of Ketchum or, if you're feeling energetic, go white water rafting near Stanley.
Some highlights of your journey:
Shoshone
(starting point)
Your drive begins in the small railroad town of
Shoshone,
one of those places that sell themselves as a gateway to more interesting places.
Find Hotels and Motels Near Shoshone
Shoshone Ice Caves
(mile 16)
Shoshone Ice Caves
take the form of a 1000 ft long lava tube through which cold air blows and freezes the subterranean water. It's not a 'pretty' cave as such, and the dinosaur and cavemen statues add to the sense of this being a roadside attraction rather than a natural wonder, but certainly worth a visit for the geological novelty.
Ketchum
(mile 55)
Ketchum is a lovely, old fashioned-looking town, perhaps best know for the chic
Sun Valley ski resort
just along the road. Take the weight off your feet at one of Ketchum's many coffee shops – and keep your eyes open for celebrities; a number of serious A-listers have homes here. Before you leave, visit the visitor information center and ask for the audio guide for the drive to Stanley; it'll point out the sites of movies by Clint Eastwood and Marilyn Monroe as well as highlighting many of the natural features along the way.
Galena Summit
(mile 84)
The road to Stanley makes its way up over Galena Summit; at 8701 ft, this is the highest highway pass in the northwest and one that offers spectacular views of the Sawtooth Mountains.
Redfish Lake
(mile 111)
The
Sawtooth Scenic Byway
then makes its way down into the valley past a string of glacial lakes – including the 4-mile long
Redfish Lake
, an ideal base from which to explore the region.
Stanley
(mile 116)
The northern terminus of the byway,
Stanley
a busy little town in a picturesque setting. People visit all year round to bike, hike, fish, raft, ride and ski; there's a good choice of lodges, cabins and motels and around a dozen restaurants.
Find Hotels and Motels Near Ketchum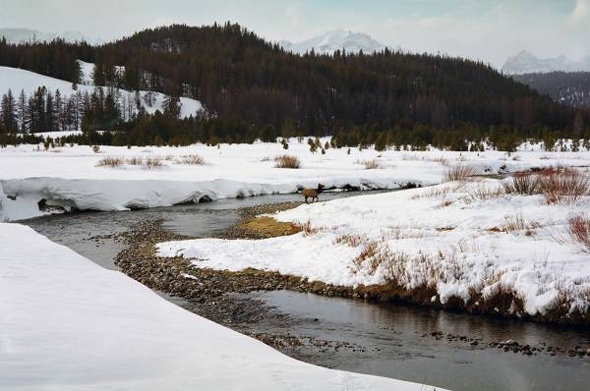 Elk by the side of a river, just south of Stanley