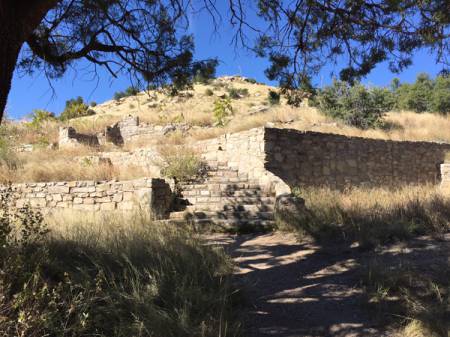 Photo by Jaimie Bruzenak
Foundations and retaining walls are all that remain of the Catalina Federal Honor Camp situated just outside the Gordon Hirabayashi Campground off Mt. Lemmon Highway. Interpretive signs tell the story of its federal prisoners during World War II - mostly conscientious objectors - who worked on building the Catalina Highway. Gordon Hirabayashi, a college senior, challenged the constitutionality of the Japanese American internment and was sentenced to serve time here. His conviction was overturned in 1987 and, in 1999, the site was renamed in his honor.

If you go:
The campground is located just past MM 7 on N. Soldier Rd off the Catalina Highway (also known as Mt. Lemmon Highway and General Hitchcock Highway). Campground (fee) for tents and RVs under 22 feet in length. Primitive restroom; no water. Pay no fee if you park outside the camping area. Access the Arizona Trail and other hiking trails on the other side of the campground. Restaurants and small stores are available at Summerhaven at the top of the mountain plus all services can be found in Tucson. Bring your own water.
Links:
N. Prison Camp Road
MM 7
Tucson, Arizona 85749 USA
Mailing address:
Santa Catalina Ranger District
Sabino Canyon
5700 N. Sabino Canyon Rd.
Tucson, AZ 85750 USA
Phone Numbers:
Santa Catalina Ranger District
+1 (520) 749-8700