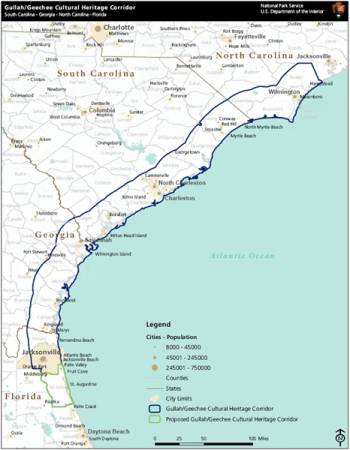 Photo by National Park Service
Stretching from north of Wilmington, NC to south of St. Augustine FL and inland approximately 30 miles, the Gullah Geechee Cultural Heritage Corridor has been designated to recognize and preserve the important contributions that the Gullah and Geechee people made to American culture and history. Various events and sites celebrate this unique culture.

If you go:
As you travel through the Corridor, you'll encounter evidence of Gullah and Geechee traditions and culture. Researching the area first will help you identify events and places of significance.
Links:
USA
info@gullahgeecheecorridor.org
Mailing address:
PO Box 1007
Johns Island, SC 29457-1007 USA
Phone Numbers:
Gullah Geechee Cultural Heritage Corridor
+1 (843) 818-4587