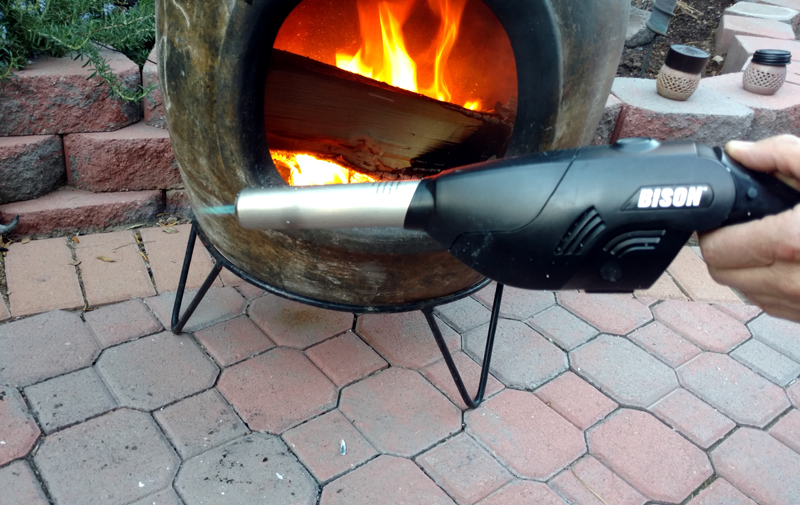 The Bison Airlighter had me at hello. Never having used a fire-starting aid larger than a pack of matches, I was instantly awed by what greeted me when I opened the box. Like its namesake, this thing is large. But not so large that I couldn't hold it in one hand and fill up its butane tank with the other. The Bison weighs about as much as a hair dryer, and looks a little like one, too. (I have never run into a hair dryer with a bottle opener on the bottom, though.)
My next step was to charge the Bison up. This was easy. It arrived with a cable that plugged into the USB wall charger I use for my phone. While it was acquiring sufficient juice to perform its duties, I built a fire in my backyard
chiminea
.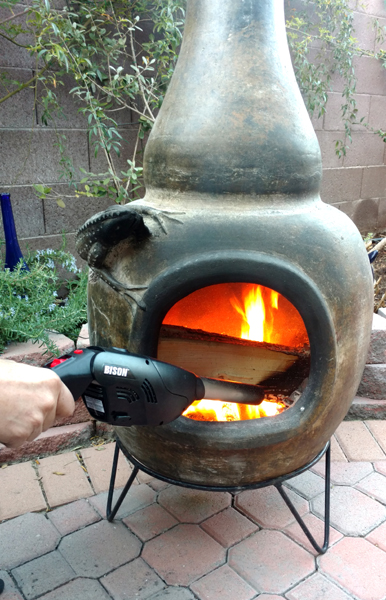 A green light soon beamed from the Bison's side, signaling that I could now indulge my slightly pyromaniacal tendencies. Grasping the Bison firmly and following directions I had read while it was charging, I adjusted the handle of the beast to what I guessed was an optimal fire-starting angle. Nearing my artful construct of paper, kindling, and one slightly-too-green pine log, I pointed the Bison's nozzle at a bit of the Sunday spots section and let 'er rip. (This involved sliding some controls in a fashion designed to prevent children and illiterates from accidentally igniting things best left uncharred.)
Whoosh
con brio
! A blue flame that the instructions said might be invisible under certain types of lighting shot forth in a manner that made me feel like I should be repairing the Golden Gate Bridge. The newspaper instantly disappeared in a blaze, and the kindling surrendered right afterwards. Never has a fire under my care begun so vigorously or consumed so much fuel so quickly. The pine log knew its hours were numbered, but it held out stubbornly.
Bring on the secret weapon, I said to myself as I watched the pine log smolder. I pulled the Bison back and let the blue flame retreat. I let the pine log think it had won this skirmish. Then whoosh again! Take that, you sappy plank of ponderosa! I showed the log who was boss by turning on the Bison's secret auxiliary weapon – the blower. Think hair dryer again. The Bison shoots a wind analogous to a hair dryer on "low" and without the heat. Ordinary fire-starting tools would have left it up to me to use a bellows or my own pneumatic power. Not the Bison. Without having inhaled a single lungful of sooty air, I watched my unseasoned log burst into ebullient flame. Huzzah. I salute you, large black beast.
Seriously, I am in love with the
Bison Airlighter.
So far, I have given it only backyard use, but I eagerly anticipate the day I take it camping. No more worrying about stubborn damp wood or inhaling ash. (And it could also come in handy if I run into a non-screw-top bottle.) No need to worry about batteries, either – I can keep the beast charged with my USB auto charger or mini inverter. A disclaimer here – I was given a Bison Airlighter to review. Am I ever glad I was the one chosen for that gig!