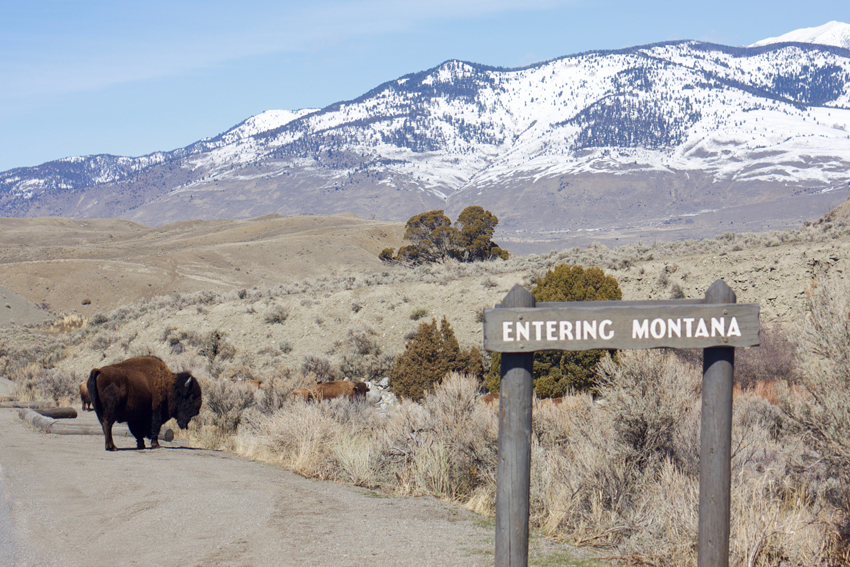 The fact that we've spent the night in Livingston is down to our aborted snowmobile adventure; if we'd gone ahead as planned, we'd have woken up still in West Yellowstone. As it is, we're just 24 miles north of tonight's pre-booked destination, Chico Hot Springs, and – more importantly – just over 50 miles from Gardiner and Yellowstone's North Entrance.
It's a glorious day, cold, bright and virtually cloudless. There's nothing we have to do other than arrive at a luxury spa resort in, what, seven or eight hours' time. And we're a short drive from one of the world's greatest natural wonders. How often is life this good?
The road from Livingston to Yellowstone – we're back on US Route 89, heading south for the first time – runs through the somewhat unimaginatively named Paradise Valley. Unimaginative because in this instance the American tendency to literalness in place names sells it short. There's no argument that this is an area of real paradise, a landscape flanked by the dramatic beauty of the Absaroka Range to the east and the Gallatin Range to the west. There's rich farmland, abundant wildlife, and through it all run the clear blue-green waters of the Yellowstone River.
This is a Montana as wonderful as yesterday's Madison Valley, but with the reassurance of neighbors within reasonable walking/hiking distance, the occasional store and serviceable back roads. To me, 'Paradise Valley' suggests communities of identikit prefabs, or some huge out of town retail mall. It's the kind of name that might be suggested by a 23 year old intern on her first week at a second rate brand consultancy. Why couldn't they just call it 'Yellowstone Valley'?
Fifteen miles north of Gardiner, we leave the valley behind and enter Yankee Jim Canyon, a spectacular section of the drive named after 'Yankee' James George, who, from 1873, operated a toll road along this section of the road into Yellowstone National Park.
Visible on the other side of the river is one of the best-preserved sections of the Yellowstone Trail, the first transcontinental highway to pass through the northern states. First conceived in 1912 (predating the Lincoln Highway by a year), the Yellowstone Trail was more of an association than an actual road-building enterprise, focusing instead on encouraging others to build new or adopt existing roads that would become part of the overall Trail. It started in South Dakota and expanded outwards, quickly reaching Yellowstone to the west and the Twin Cities in the east, before eventually realising the goals of its founders by providing "a good road from Plymouth Rock to Puget Sound".
The spur that links Livingston to the National Park itself remains accessible in a number of places but, tempting though it would be to explore a little, we press on towards today's #1 objective and pass beneath the iconic Roosevelt Arch that marks the northern entrance.
As we pay at the NPS booth a few hundred yards further on, the ranger on the gate nods towards the brilliant blue sky and assures us that we're going to see "a heck of a lot of wildlife today." And so it proves. In a few short hours, venturing no further than Mammoth Hot Springs, we see two dozen bison following the river northward, twice as many elk being counted/surveyed by helicopter, and group of three big horn sheep who, after first puffing out their chests and affecting an arrogant "You looking at me?" swagger, revert to type with a sudden ovine panic attack, freaking out and bounding along the road ahead of us before disappearing from view.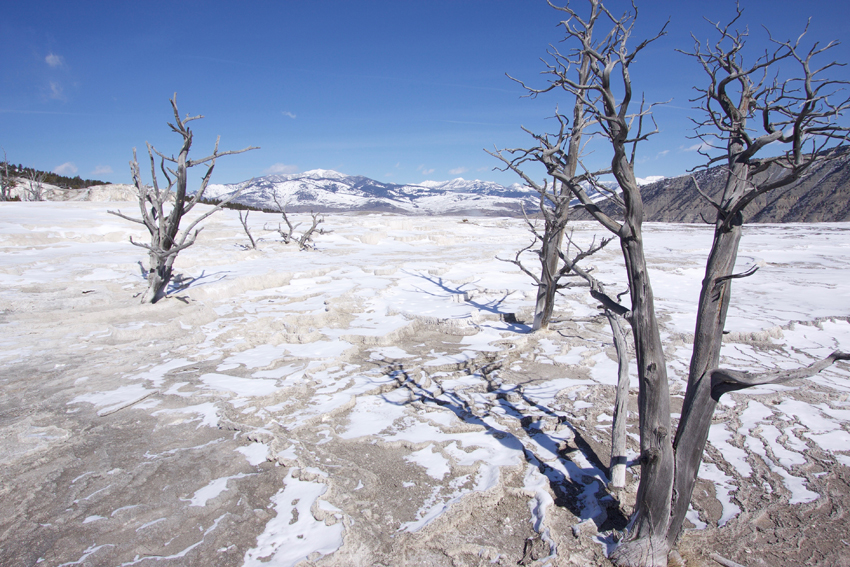 After exploring the snow-covered boardwalk system that provides access to the calcified, wedding cake-like terraces of Mammoth Hot Springs, we buy a sandwich at the general store and head back towards the entrance, picnicking at the northern end of Gardner Canyon (Gardiner's the town, Gardner – no 'i' – is the river). As we stand outside the car to enjoy the sun, a group of pronghorn moves slowly along the brow of the hill on the opposite side of the river, stopping occasionally to feast on the tough-looking tufts and twigs of pale green winter vegetation that somehow survive in the rocky ground.
It might be a carnivore-free visit so far – mule deer are added to our ungulate-exclusive list as we head back north to Chico Hot Springs – but whatever their position on the food chain, there's still something incredibly exciting about encountering wildlife in an entirely natural environment.
And so, on to Chico, a spa resort based around natural hot springs that bubble up from the ground at the foot of the Absaroka mountains. Everything about it promises an unforgettable experience: the idyllic location, the mineral waters, the historic buildings, the warm welcome. And yet it's not somewhere I'd rush back to visit.
In hindsight, I think maybe expectations had been raised too high by the gushing on-line reviews; everything I'd read ahead of our stay suggested 5-star luxury, and that's neither the case nor, really, the point.
The kindest description of our room in the Warren Wing would be 'simple'; less charitable guests might describe it as 'basic and dark'. The pool, wonderfully relaxing in the early afternoon, becomes more lively and less appealing as the day wears on.
And, sadly, the dining room is a victim of its own success (or, more accurately, of a winter promotion offering inclusive accommodation and meal deals). We have a table booked for 8.00 pm but a busy first sitting means we have to wait outside for 15 minutes. Our orders aren't taken for another 30 minutes, starters/appetizers take a further half an hour to appear and main courses/entrees don't arrive until nearly 10.00 pm. Normally that would be too late to even consider puddings/desserts but we persevere as (1) the restaurant's signature dish is its Flaming Orange dessert, a whole orange filled with liquor ice cream and flamed with rum, and (2) it's included in the price.
The quality of the meal is fine (as in 'perfectly acceptable' rather than 'fine dining'), the staff are good, doing their best to keep everyone happy, but the whole experience would be considerably improved if greater focus were to be placed on maximizing customer satisfaction rather than the number of covers.
Chico is one of those places whose reputation demands you give it a try if the opportunity arises (and if there's availability – rooms can be sold out weeks in advance). And, looking back, I've maybe been a little over-critical here. The location and waters alone make it worth the price. Arrive expecting history and character rather than pampered self-indulgence and you'll be fine.
Click here to read:
Day Seven: Morning, heading back to Yellowstone
(To
read the narrative from the other days
and see more of Peter's awesome photography,
click here for the table of contents.
)
View more examples of
Peter Thody
's
iconic photography of the American West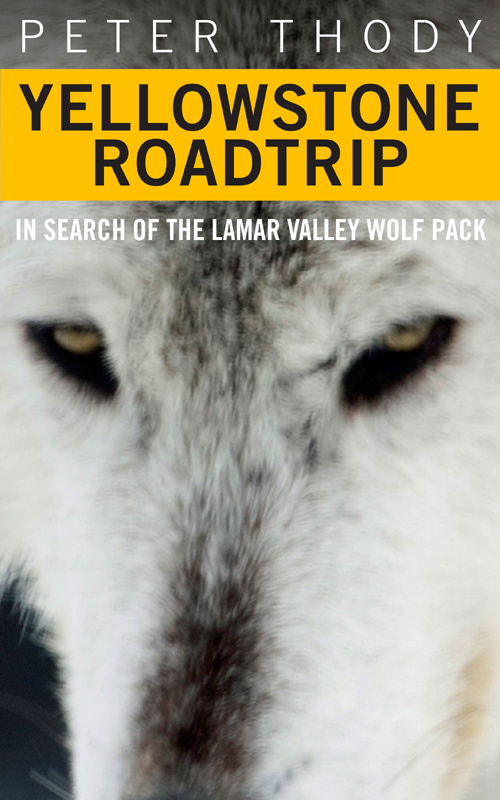 Book:
"Yellowstone Roadtrip: In Search of the Lamar Valley Wolf Pack" by Peter Thody
For the minimal price of only $1.49 you can
download the entire book on your Kindle
and you don't have to wait for tomorrow's segment!
Author Bio:
Over the last several years, Peter Thody has written some of the best-read travel commentary on RoadTrip America, the world's leading resource of advice, inspiration and guidance on that most American of pastimes. His on-the-road reports have provided readers with a fresh perspective on the whole concept of the American roadtrip. That's because Thody is an Englishman -- clueless about some things Americans take for granted, unafraid to poke fun at heroes and traditions, and unabashed in his wonder at the beauty of it all.