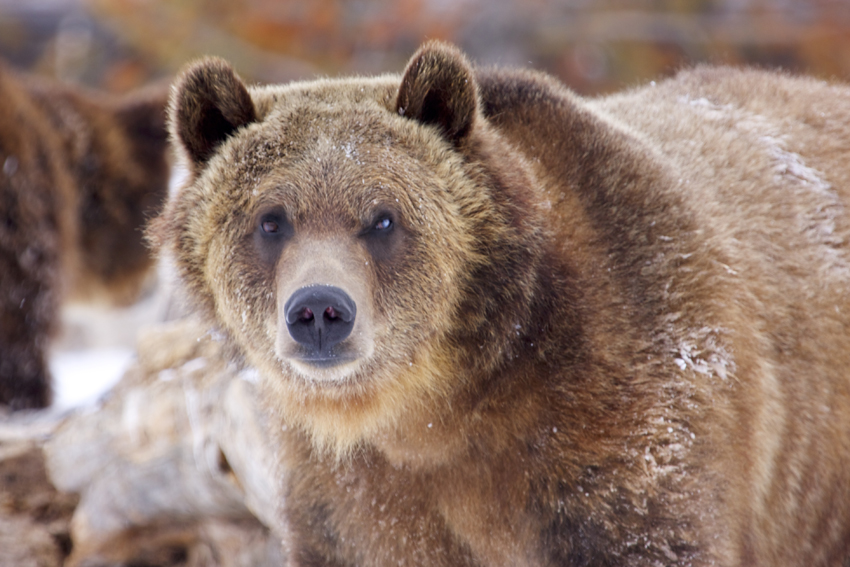 The thin smattering of fresh snow doesn't look too promising, but the woman on reception says she'll check with the boss. "How many snowmobiles will you need?" she asks. "Just the one, a dual-seat please." "And what type?" "Erm, I'm not really sure. It's our first time. What would you recommend?"
There's a perceptible shift in her demeanor. The alarm bells ringing in her head are almost audible as she puts down her pen and looks up to check whether I'm serious. "You know, I can rent you a machine and take your money if you like but I'm going to say I don't recommend it."
Just in case there's any lingering doubt as to the risk we'd be taking, she continues: "Conditions are far from ideal at the moment. You might be fine but as a first timer you could easily hit problems. And with no-one else out there, you're likely to find yourselves in serious trouble very quickly."
For a split second it crosses my mind to make the pretense of considering the pros and cons but my sensible brain takes control: "Agreed, it's a shame but not worth the risk. Maybe next time, eh? Thanks anyway."
This had been a central part of our plans, a must-do on our itinerary, but it turns out to be a surprisingly easy decision to make. It's reassuring how quickly the survival instinct kicks in.
So instead, after an excellent breakfast at a nearby diner, we head a couple of blocks east to the city's other big attraction: the Grizzly and Wolf Discovery Center.
The GWDC is a rescue center, a home for animals unable to live in the wild for reasons such as over-familiarity with humans, parental euthanisation (for the same reason), injury or simply having the misfortune to have been born in captivity.
There are nine grizzlies and two wolf packs. (There's also a raptor area but this is closed because of the snow). The bears are 'exhibited' in twos and threes, taking it in turn to forage for food hidden around a reasonably sized viewing area. The wolf packs prowl and explore two separate areas, occasionally stopping to gnaw on an elk carcass or, as they do today in dramatic fashion, grab an opportunist side order in the form of one of the ravens that swoop down from the nearby trees in an attempt to steal a morsel of carrion.
The fact that it's out of season, only just after 9.00am and a cold -14° means we have the place virtually to ourselves, and it's captivating. It may be a matter of perception, naivety on my part perhaps, but I leave with the sense that the center is genuinely run for the benefit of the animals, that the extensive gift shop is there to raise money for their upkeep and welfare, rather than them being a 'product' through which to sell tickets, t-shirts and teddies.
With all Yellowstone's through roads closed for winter, the only way into the park is to head north to Livingston before looping back south again, and the drive from West Yellowstone proves to be one of the highlights of our entire trip.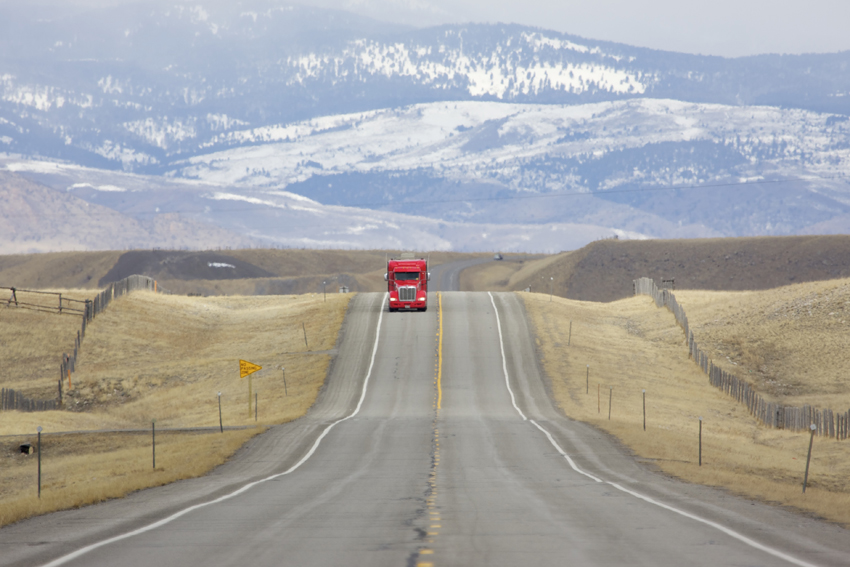 Following U.S. Route 287 all the way, we head out of town with snow-covered forest to either side before turning left past the five-mile long Quake Lake. This dramatic natural feature was formed in 1959 when an earthquake measuring 7.5 on the Richter scale created a massive landslide that blocked Madison River. Campgrounds flooded, roads collapsed, a dam overflowed (but held), a nearby lake rose 8 feet, buildings in three states were damaged, and a total of 28 people lost their lives (17 of whom were never found).
It's hard to imagine such devastation in a place that is today a scene of silent tranquility. At this time of year the lake is hidden beneath snow and ice – it could just as easily be a flat plain as a 190-ft deep lake – but the scale of this landscape-changing event is no less apparent.
From here the road makes its way north through Madison Valley, classic Montana big (cloudy) sky country, a land of ranch gates and jackleg fencing. Pale brown range stretches out across the valley floor, virtually featureless until it reaches the distinct tree-and-snow line of the distant mountains. The road glides up and down over the undulating landscape, the occasional truck appearing on the crest of a wave miles ahead, repeatedly disappearing and reappearing before passing us with a greeting on the air horn.
Every now and again we pass a group of ranch buildings and wonder at a lifestyle so far removed from our own that it's almost impossible to imagine.
Where's their nearest store/bar/gas station/neighbour/doctor? How often do they have to shop? What if someone gets ill? What if the ATV breaks down? Does the weather never get them down? Surviving winter round these parts must require a high degree of self-sufficiency.
It may be remote – in terms of both concept and geography – and it's a landscape that some might describe as bleak, but it's also somewhere I've been drawn back to again and again in our years of exploring America. I'm sufficiently aware of the inadequacy of my 'man skills' to accept it's a place I'll never live, but it's also somewhere that still features in daydreams of lottery-funded retirement.
We turn east at the small community of Norris and follow Highway 84 alongside the extraordinarily pretty Madison River, passing one of Ted Turner's huge bison ranches before descending into Bozeman. From here it's just a short hop on the Interstate to one of my favourite places in the whole country, Livingston.
Railroad town, movie location and, increasingly, a magnet to artists and writers, this is a place with a real buzz. It's our third visit to the city and we've once again booked into the Murray Hotel, a landmark building opposite the station that opened for business in 1904 and has since welcomed guests from royalty (the Queen of Denmark) to movie stars (Robert Redford, Jack Palance, Rip Torn). Humorist Will Rogers once famously attempted to take a horse up to his third floor suite in the elevator.
The lobby area takes up the entire ground floor and is hung with ancient taxidermy, saddles, sepia photographs and Western paraphernalia. After checking in we're led to the hand-cranked, polished brass 1905 Otis elevator and escorted to our room. It would be fair to say that its charm lies in its quirky character: the floorboards squeak, some windows open, some don't, and the radiators are of the large, cast iron variety. They are also of the distinctly cold variety, a condition, we're assured, that will be rectified in about 30 minutes when the heating switches on.
An hour later (well, it can take a while for hot water to work its way through an old system), I finally buzz the front desk to see what's happening and am reassured that they'll check to make sure the system's switched itself on as programmed. It's at this very moment that Carole, having decided to warm up with a bath, switches on the hairdryer, an action that promptly blows a fuse to leave us not only cold, but without power.
I walk down to the lobby – the elevator can only be operated by a member of staff so you have to call down and ask someone to come up and collect you – and let them know that electricity has joined heat on the list of absentee services. Remarkably relaxed about the whole situation, the lady behind the desk says she 'thinks' the guy who knows about these things is still there and they'll be up shortly.
The next half hour or so are like something out of a 1970s sit-com, the pair of them debating where the fuse box might be, disappearing for a few minutes, then – just as we're beginning to worry that the guy who knows about these things has clocked off – returning to speculate a little more and reassure us that all will be well soon. And eventually, of course, it is: heat and light are restored and both performers in our comedy troupe are able to return to normal duties.
And you know what? I'd still give the place five out of five in any review (proof, if ever it were needed, that you should never trust anything on TripAdvisor). It's the kind of place where these things happen and you either take that risk and go with the flow, or play safe and book into one of the edge of town chains. If you're not sure, ask to see the rooms – you'll know immediately whether it's your kind of hotel.
Click here to read:
Day Six: Livingston to Chico Hot Springs
(To
read the narrative from the other days
and see more of Peter's awesome photography,
click here for the table of contents.
)
View more examples of
Peter Thody
's
iconic photography of the American West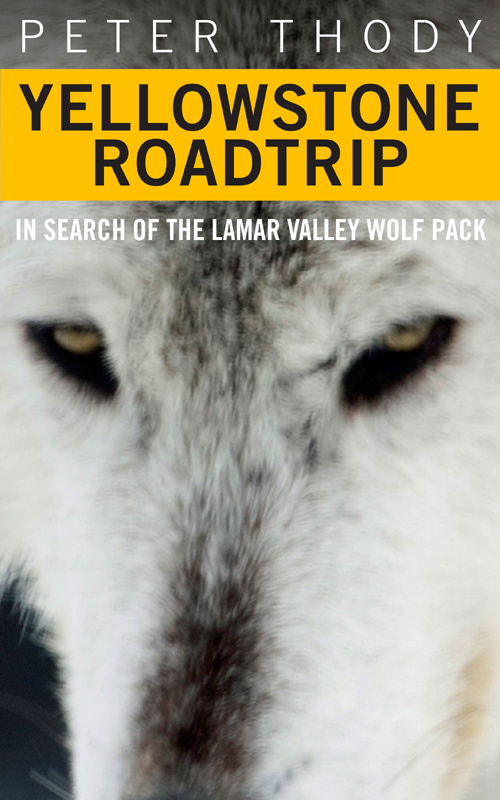 Book:
"Yellowstone Roadtrip: In Search of the Lamar Valley Wolf Pack" by Peter Thody
For the minimal price of only $1.49 you can
download the entire book on your Kindle
and you don't have to wait for tomorrow's segment!
Author Bio:
Over the last several years, Peter Thody has written some of the best-read travel commentary on RoadTrip America, the world's leading resource of advice, inspiration and guidance on that most American of pastimes. His on-the-road reports have provided readers with a fresh perspective on the whole concept of the American roadtrip. That's because Thody is an Englishman -- clueless about some things Americans take for granted, unafraid to poke fun at heroes and traditions, and unabashed in his wonder at the beauty of it all.