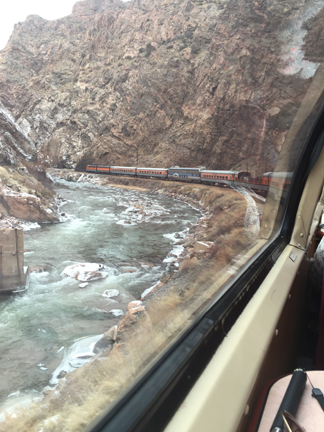 Board your train in Canon City for a narrated ride through the deep, narrow Royal Gorge. After passing the historic territorial prison, you'll follow the remnants of an old water pipeline that served Canon City along the Arkansas River. Keep your eyes open for big horn sheep and other wildlife and view the Royal Gorge Bridge high above. Best views are from the open-air car and vista dome cars.

If you go:
Reservations are advised. Tickets can be purchased online. Arrive 45-60 minutes early to pick up your tickets. Parking available for cars and RVs. Food and drink can be purchased on-board. No food or drink except water bottles may be brought with you and no backpacks are allowed on the train. Several classes of travel are available and special trains, notably the Santa Express trains at Christmas.
Links:
330 Royal Gorge Blvd.
Canon City, Colorado 81212 USA
info@royalgorgeroute.com
Mailing address:
330-B Royal Gorge Boulevard
Canon City, CO 81212 USA
Phone Numbers:
Royal Gorge Route Railroad
+1 (719) 276-4000
Toll-free
+1 (888) 724-5748