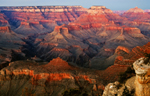 375 miles, about 10.5 hours
This is an incredible journey that can be done in one very long day or you can split it into a couple of days. Starting in Las Vegas, the route swings by the incomparable Hoover Dam en route to the Grand Canyon by way of two relatively little visited historic and picturesque attractions.
Here are a few highlights to look out for along the way
Hoover Dam
(mile 31)
The first stop is
Hoover Dam.
(Click here for photos of the bridge building project, completed in 2010.
) There are tours of Hoover Dam, but taking one will lengthen your day too much to see the rest of what is in store for you. Take plenty of photographs and video of the dam and then get back on the road.
Sunset Crater National Monument
(mile 271)
Continue on Rte 93 to Kingman, Arizona, and take I-40 east to Flagstaff. Drive past Flagstaff, exit at Rte 89 and go north to the
Sunset Crater
turnoff, County Road 395. It will be well marked with the brown and white National Parks sign. The road into Sunset Crater is a loop road that also goes through the lava beds and skirts the
Painted Desert.
Wupatki National Monument
(mile 288)
Next up is the
Wupatki National Monument
, a well-preserved ancient Native American village. The loop road is about 30 miles long and comes out further up Rte 89. There is a lot to see and do along the route.

Desert View Overlook
(mile 364)
Head north on 89 again toward Cameron, and turn west on Rte 64 to go into the east entrance to
Grand Canyon
at
Desert View
. Along the road, and before you reach the park, you might want to stop at the small canyon on the Little Colorado River, where Native Americans have set up a huge craft market. The trinkets and paintings and such are good quality, but the small, deep canyon is a good attraction, too.
Grand Canyon
(mile 375)
Drive on to Desert View, where you can park for a few minutes and get your first look and the Grand Canyon. There is a picturesque stone tower there that you can ascend for an unobstructed view into the canyon. Then go on to Grand Canyon Village, where you can park your vehicle and ride the
Grand Canyon Shuttle.
It will be late in the day by now, so try to get to
Mather Point
or one of the nearby viewing areas. Sunset at Grand Canyon is a "must see" for every one, but don't leave your viewing area too soon. After the sun sinks below the western rim the canyon becomes dark. However, a few minutes later there is an afterglow down in the canyon that produces phenomenal colors. It lasts for about 10-15 minutes and is light enough for great photography.
You should reserve lodging either inside
Grand Canyon Village
or in one of the many hotels in the town of
Tusayan
, just south of the park. You will then have a very short drive to your hotel for the first night. Reserve your hotel room well in advance of the trip. Regardless of where you choose to stay, go outside after dark, get away from the lights, and look up at the sky the way it should be seen. Perhaps you'll see the Milky Way, too.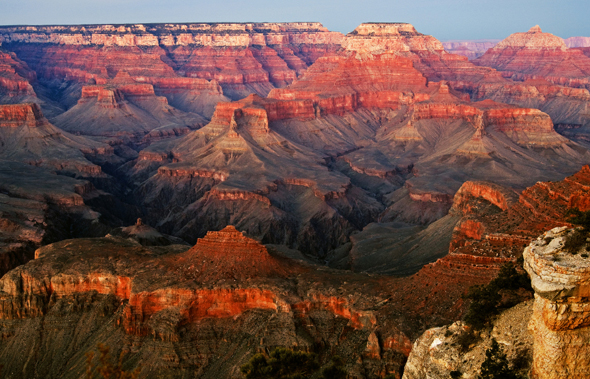 Afterglow seen from the south rim of the Grand Canyon