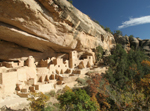 184 miles, 4 hours or more
Southern Colorado and Utah present a curious landscape blending desert, mountains, and otherworldly rock formations, as well as ruins of the homes built by Natives in ancient times. By traveling the route from Durango to Arches National Park, you can have the best of both nature and history.
Here are a few highlights to look out for along the way
Durango, CO
(Starting Point)
Take a stroll on the historic streets of this
authentic western town
that was used as a filming location for "Butch Cassidy and the Sundance Kid", among other Hollywood films. And if you're hungry, be advised that Durango claims more restaurants per capita than San Francisco.
Mesa Verde National Park
(Mile 35)
Located on U.S. 160 near Cortez,
Mesa Verde National Park
offers great hiking and lots of colorful flora and fauna to admire. But the real draw is the extensive assortment of cliff dwellings, abandoned some eight centuries ago. Many of these 600 or so pueblos are open to public exploration, some at your own leisure. Others are accessible only by guided tour; the most interesting involves climbing up the side of a cliff on a 50-ft. ladder.
Dove Creek, CO
. (Mile 100)
Dove Creek
, on U.S. 491, bills itself as the Pinto Bean Capital of the World. It's also an archaeological hub, with many ruins of Native American dwellings in the vicinity.
Monticello, UT
(Mile 124)
At the junction of U.S. 491 and U.S. 191,
Monticello
is steeped in Mormon history, as well as Wild West lore – so many outlaws hid out in these parts that it became known as The Outlaw Trail. It's also steeped in outdoor sports. Every year, the city hosts the Blue Mountain Triathlon, which is part ski race, part bike race and part foot race, totaling 27 miles. If that's too strenuous for you, the community also boasts some of the finest golfing around.
Moab, UT
(Mile 178)
Moab
is a mecca for bikers, hikers, river rafters, equestrians, and just about every other breed of outdoor enthusiast. The sweeping panoramas may remind you of old Hollywood westerns, and for very good reason. Director John Ford decided this was the ideal backdrop for horse operas, and many other directors followed his capable lead. Even Spielberg used the environs for an Indiana Jones sequence.
Arches National Par
k (Mile 184)
Arches National Park
features some of the most enchanting natural rock sculpture you've ever seen; many of the gigantic arches look like science fiction gateways to another dimension. It's a back lot no film crew can ever quite replicate.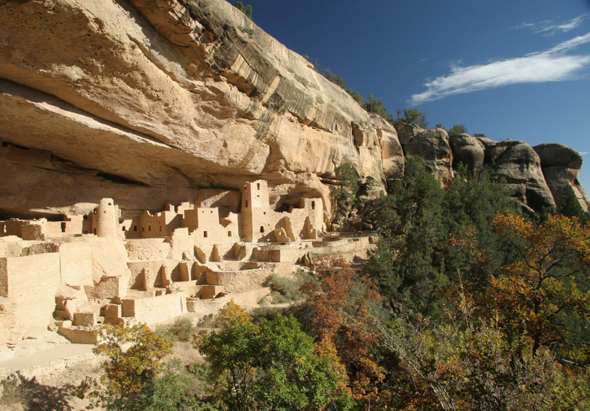 The astonishing Cliff Palace in Mesa Verde National Park