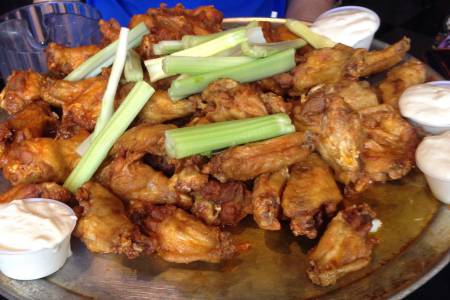 Photo by Sarah Collins
There are three iconic foods you should try while in Western New York; roast beef on kummelweck, Footlong hot dogs and the original Buffalo Wings. The Anchor Bar is the home of the original Buffalo wings, created by owner Teresa Bellissimo in 1964. It is still the best place in the world to get Buffalo wings. If you've had any other wings, you haven't tasted the real thing. Don't leave Buffalo without visiting Anchor Bar, but if you miss the home location, you can get them at the Buffalo Airport Anchor Bar, too.

If you go:
This is a bar and they do serve alcohol, but it is family friendly, so don't hesitate to bring the kids. Other foods are also on the menu, but the wings are the main attraction.
Links:
1047 Main Street
Buffalo, New York 14209 USA
Phone Numbers:
Anchor Bar
+1 (716) 884-4083
Online Orders
+1 (866) 248-9623 ext. 109