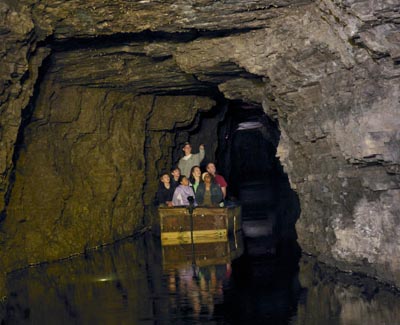 Photo by Tom Callahan
The Erie Canal connected Lake Erie with the Hudson River. One of the engineering marvels of this passage was the five locks built through the Niagra Escarpment where the boats were raised and lowered more than 60 feet. The location of these five locks is known as Lockport and this tour includes both walking and boating in the behind-the-scenes caves, tunnels and locks that were built in the 1830's. Most of the tour is underground and the boat tour is kind of eerie, but lights are provided.

If you go:
Tours operate May through October. If darkness is a problem for you, take the nearby above ground boat cruise at the Lockport Locks Cruise Line. Or take both cruises, each one unique.
Links:
5 Gooding Street
Lockport, New York 14094 USA
Mailing address:
Lockport Caves & Underground Boat Ride
5 Gooding Street
Lockport, NY 14094 USA
Phone Numbers:
Lockport Caves and Underground Boat Ride
+1 (716) 438-0174